30 March 2010
School bus driver suicidal prior to deadly crash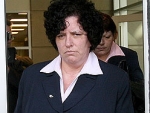 CALGARY - Two days before a deadly school bus crash, the driver was ordered to see a school psychologist after attempting suicide a month earlier, a fatality inquiry heard Monday
Louise Rogers took the stand and testified that in the months leading up to the Oct. 18, 2007 crash that killed nine-year-old Kathelynn Occena, she had become increasingly depressed and was taking anti-depressants and sleep medication.
Rogers, who crashed the Third Academy School bus carrying 11 children into a broken down gravel truck in southwest Calgary, said she was taken to an emergency room in September after taking an overdose of the thyroid medication Synthroid.
"I tried to take my life," she answered softly under questioning from inquiry lawyer Nancy McCurdy, one of several instances where Rogers became emotional during testimony.
The inquiry, which cannot assign blame, heard Rogers' life began to spiral starting in May of 2007 as she started seeing other men and was separated from her husband, prompting her to take stress leave from the school.
One month later she converted to Islam and began wearing a hijab.
Rogers said she returned to her work in the fall but was told by the school's transportation supervisor, Arlene Waldner, to see the school's psychologist on Oct. 16, one of several meetings with the doctor she had had in 2007.
Asked about the fateful day, Rogers said she had taken medication the night before but woke up feeling alert and excited about an upcoming trip to Morocco.
She admitted to having one headphone bud for her mp3 player tucked into her hijab play music at a medium volume, a common practice for her, but said she could not remember what happened after she turned off onto Crowchild Tr. where the crash occurred.
Pressed on whether she had dozed off, Rogers admitted it was possible.
"I could have — I don't know," she said, choking back tears.
"I cannot remember what happened."
Rogers admitted to using "wake up pills" on occasion while driving to make her more alert but despite a package being found on the bus after the crash, she insisted she had not taken any and was wide awake on the morning of the crash.
She also admitted to sometimes talking on a cell phone while driving but said she didn't remember making or receiving any calls that day while transporting the students.
The inquiry is expected to wrap up Thursday with witnesses who had filed complaints about her driving in the past as well as Third Academy officials scheduled to testify on Tuesday.