25 March 2010
Nigeria to prosecute hundreds of suspects in Christian slaughter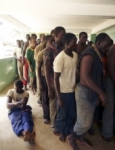 Hundreds of suspects arrested over the recent slaughter of Christians in Nigeria are scheduled to be prosecuted as early as this week.
Plateau State police spokesman Mohammed Lerama said they hope to go to court this week and begin the prosecution of about 200 suspects, according to Agence France-Presse.
The suspects were detained after a number of predominantly Christian villages in the Jos area were attacked by machete-wielding Muslim extremists on March 7. While police estimate that more than 100 people were killed, persecution watchdogs say the death toll was up to 500.
A second attack last week left some 13 people dead.
Lerama told AFP that 49 Fulani herdsmen will be charged with homicide and terrorism in connection with the March 7 violence. Another seven will face similar charges over the second wave of killings.
Others face charges of unlawful possession of firearms, rioting, arson and causing grievous hurt.
Persecution watchdogs have called for security for Christians in the West African country. Open Doors, which is based in the US, says the atmosphere in the Christian villages remains tense.
Open Doors' Africa director reminded the public that this is a spiritual battle and that some Christians "react to the honour of God and others don't".
"I think it is also important to understand that the Nigerian Christians are not super human beings. We need to understand that those Christians in northern Nigeria face discrimination, humiliation and attacks on almost a daily basis," the director said.
"They have built and rebuilt homes and churches so many times. They have gone to morgues to look for the bodies of their loved ones so often.
"Our coordinator testifies that the youth of Dogo Nahawa (village attacked on March 7) are livid over this attack. When a pastor encouraged them to forgive, they were extremely offended. This is not to be commended, but it has to be understood."
Some reports claim the recent massacre was in an act of revenge for the January attacks against Islamic communities and the theft of cattle from herdsmen. The Anglican archbishop of Jos, the Rev Benjamin Kwashi, claims those attacks were not prompted by Christians but by a calculated attack on the church.
More than 200 suspects have been charged in connection to the violence in January, police said.
The country's population is nearly equally divided between Muslims, who dominate the north, and Christians who live mainly in the south