25 March 2010
KFC diner told 'you can't have bacon in your burger here - we're now halal'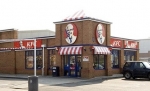 A diner was left fuming after a KFC restaurant took his favourite meal off the menu because it breached their new halal regulations.
Alan Phillips was told he would have to travel five miles to another branch if he wanted the Big Daddy, a chicken burger, topped with bacon, cheese and salad.
The branch, in Burton-on-Trent, Staffordshire, is one of 86 KFC restaurants which is running trials of a scheme where they sell nothing other than halal meat.
Trial: This KFC in Burton-on-Trent is one of 86 stores to be selling nothing other than halal meat during the next few months
The company has taken the burger off the menu because Islamic dietary law forbids Muslims to eat anything which has been prepared on the same premises as pork, which is itself strictly forbidden.
It said it was responding to 'increased demand' for a halal menu in the areas of Britain with growing Muslim populations.
Mr Phillips said he found the change 'extremely unfair' on non-Muslim customers.
'I can't believe a chain like this has taken this stance,' he said. 'Staff told me that due to the dietary laws halal meat could not be prepared in the same place as other meats, so I couldn't have my bacon.
It was like they were saying I couldn't buy bacon because it might offend people.'
Mr Phillips was told he would have to travel to another KFC five miles away to buy his bacon burger. He protested that this was too far for him to travel.
'It is getting silly,' he said. 'I have many friends who are black, white and Muslim but they wouldn't be forced to eat non-halal meat.
Banned: The Big Daddy has been banned at 86 KFC restaurants
'I have no problem with them selling halal meat, but I would like the choice.'
Traditionally, halal meat must be slaughtered by hand, although KFC, which has more than 750 restaurants in the UK, said its chickens are not killed in this way.
The meat must also be blessed in the name of Allah and cannot be kept on the same premises as banned substances including pork and alcohol.
KFC spokesman Nina Arnott said the halal trial was expected to last 'a few months'.
She said: 'We've responded to requests to provide halal food in some parts of the UK and the Middleway Park restaurant in Burton is one of the restaurants taking part in our trial.
'The Big Daddy is the only product we've taken off the menu at our trial stores and we're using exactly the same ingredients and exactly the same tasting chicken as before.'