17 March 2010
Pakistani Christian injured in Taliban attack on "World Vision" passes away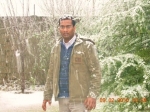 Rawalpindi: March 16, 2010. (Xavier William reports for PCP) Young energetic Christian youth Imtiaz John was laid to rest here today in Westridge graveyard
in Rawalpindi after fighting with life in for four days in Abbotabad hospital after receiving bullet injuries during Taliban attack on US Charity World Vision.

On 10th March 2010, Taliban militant gunmen stormed Christian charity World Vision in Pakistan and killed five workers.

The gunmen besieged the World Vision building near Oghi town in Mansehra district of North West Frontier Province (NWFP), where Taliban and Al-Qaeda-linked militants have been waging a deadly campaign of attacks.

The organization has been operating in the area since October 2005, when aid workers flooded into the northwest after a 7.6-magnitude earthquake killed more than 73,000 people and left about 3.5 million homeless.

But many charities have since left the area, as Islamist violence soars. In February 2008, four aid workers with the British-based group Plan International were killed in a similar gun and grenade attack in Mansehra town.

One of the staff Members, Mr. Imtiaz John resident of Rawalpindi got injured in the attack, he said "They gathered all of us in one room. The gunmen, some of whom had their faces covered, also snatched our mobile phones, They dragged people one by one and shifted to an adjacent room and shot and killed them. The sad news is that five local colleagues were killed -- three male and two female. We have seven colleagues injured... one is missing. "

Imtiaz John was the founder of "Christian Welfare Foundation" in Rawalpindi. He was working for the uplift of the deprived class in the Christian Community.

He was also working on a religious CD "Bandhan" in collaboration with Pakistan Christian Congress PCC.

Mr. Xavier William Joint Sec. PCC and Mr. Basharat Masih President Islamabad-PCC went to condole the grieving family.

Mr. Imtiaz John has left a 6 months daughter and a wife.