15 March 2010
Barack Obama must pull US troops out of Afghanistan, says Indonesian cousin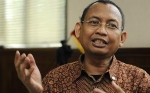 Barack Obama must pull American troops out of Afghanistan and Iraq if he wants to fulfil his dream of reconciling the Muslim world and the West, according to his Indonesian cousin.
Haryo Soetendro, 55, grew up with Mr Obama – whom he knew as "Barry" – when the future American president lived in Indonesia for four years from the late 1960s.
In an exclusive interview with The Daily Telegraph, Mr Soetendro said that his illustrious cousin must start delivering on his promise to build bridges with the Islamic world as the President prepares to leave for a visit to his childhood home next weekend.
"The Iraq and Afghanistan problems should be solved peacefully and that is what Barry is trying to do. Indonesian Muslims are generally tolerant. But there is a common opinion that one country should not occupy another. No one would want their house occupied by someone else.
"You cannot force other countries to accept your idea of what is right just because you are stronger. I think the mothers in America would agree with this when they see their soldier sons being killed in Afghanistan."
Mr Obama is due to fly to Indonesia next week but postponed his trip to help hammer out a health care reform bill that he hoped will be passed before his departure.
After criticism that he was taking a "vacation" to the country that had been timed to coincide with his daughters' school holidays, the White House announced that Mr Obama's wife Michelle and their children would not be accompanying him.
Robert Gibbs, the White House press secretary, said that Mr Obama planned to attend a democracy conference in Indonesia and would will highlight the country's counter-terrorism efforts. During a six-day trip, Mr Obama is also scheduled to visit Guam and Australia.
Mr Obama won plaudits for his speech in Cairo last year in which he sought common cause with the Muslim world and will be hoping to build on that in Indonesia, the world most populous Muslim nation.
But Soetendro said he is being prevented from peaceful solutions by conservative influences.
"He is doing a great job and the fact that he has opened dialogue with many countries is a good step forward.
"He is a very tolerant person and respected by people across the world. However, I think he is being held back by having to please conservatives in the United States.
"It's not black and white. He has to represent all opinions and cannot fulfil all demands."
Mr Obama is expected to return to his childhood home during his visit. Mr Soetendro took "Barry" under his wing when the six-year-old moved to Jakarta with his mother Ann Dunham and Indonesian stepfather Lolo Soetoro in 1967.
The Javanese Muslim helped explain the customs and culture of Indonesia to his American, Christian, cousin.
The future President fitted happily into a big and sociable, but unconventional Javanese clan who once fed him on tiger meat and kept a pet crocodile.
Mr Soetoro, who died in 1987, was instrumental in Mr Obama's upbringing during some of his formative years.
"My uncle, Lolo, regarded Barry as his real son," Mr Soetendro said. "They had a very strong father-son relationship. Lolo showed him everything – all the weird and wonderful things in Indonesia that must have been very strange to Barry, coming from America. Lolo was an easy-going guy, who was happy and enjoyed life, like a typical Indonesian.
"He wasn't really a religious man, and only took the family to the mosque on big community celebrations."
The Soetoros are the kind of liberal, Muslim success story that the American President will be happy to be associated with.
But many Muslims in Indonesia are not rolling out the red carpet. Thousands of Indonesians protested against Mr Obama's visit across five cities on Sunday. Radical Islamic group, Hizbut Tahrir Indonesia, which has one million members, is planning a huge demonstration in Jakarta on Friday.
"Obama is a war president of a country that murders Muslim women and children. He is using Indonesia as his beast of burden to build a positive image of America to the Muslim world," the group's spokesperson, Ismail Yusanto told The Daily Telegraph.
A spate of recent arrests and killings of wanted terrorists – notably the killing of Dulmatin, the Bali bomber, last week and the discovery of a training camp in Aceh last month – has revealed a re-emergence of Islamic extremism in a country made up of 17,500 islands and 230 million people.
"The international linkages with Saudi Arabia, Pakistan and Afghanistan are stronger than we thought and the discovery of the Aceh training centre showed that the group was attempting to make a secure base for their activities in the region," explained Jim Della-Giacoma, South East Asia Project Director of Crisis Group International.
ttp://www.telegraph.co.uk