10 March 2010
Islamic authorities expelling Christians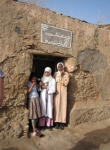 Orphanage workers, others caught up by crackdown by 'moderate' nation
Several dozen Christian orphanage workers, business leaders, teachers and others who work with charitable organizations to help the poor in Morocco have been rounded up by government agents and deported, according to a series of reports to WND.
A Christian aid worker who contacted WND said many of the people being removed by authorities in the northwestern African Islamic nation are being told without explanation that their visas have been revoked.
"Two or three are clergy to expatriate communities, some are businessmen, teachers, professors and some are part of charitable organizations to help the poor and/or the handicapped," said the aid worker, who asked to be identified only as Brother D.
He reported he's been in Morocco for five years, and a family with whom he works has been in the nation for 10 years.
"We work as extensions of our local churches back in the states and are not part of a missionary group or board," he said.
Christian work has been ongoing in Morocco for nearly 100 years, a nation under Islamic influences for more than 1,000 years.
According to a report from Mission Network News, the deportation move apparently has been building for several weeks.
In the report, Todd Nettleton of Voice of the Martyrs said Morocco's new minister of justice, Mohamed Naciri, is believed to be responsible for the crackdown.
"It's unclear if simply this new minister of justice is a more devout or more radical Muslim and wants to come against the apostasy movement, encouraging Muslims to leave Islam and follow Jesus Christ and we just don't know that much about the why right now," he told MNN.
A separate report from an organization called Village of Hope confirmed that all 20 foreigners who have been working to provide for otherwise abandoned children there have been ordered to leave Morocco.
"They have not told us how long we have left, but it will be between 1 and 3 days. The reason given is that the abandoned children in the care of VoH have been proselytized to by us… This despite the fact that we have always been open about our faith to the authorities, and for 10 years they have allowed VoH to take in and foster children abandoned by this society, children who would otherwise be killed or placed in state run 'mega' orphanages," the group reported
Brother D reported that the procedures for the removals appear to be "strong arm tactics that are contrary to their own laws."
For example, he said government documents confirm that if a visa is revoked or not renewed, the person will have 15 days to leave the country. But actually the Christians are given only hours or more.
"I think this is shameful for Moroccans to enjoy complete religious freedom in the U.S. and Europe and giving none to foreigners," he said. "We have no rights to build churches or share our faith. If Europe or America started kicking out Muslims, and their religious leaders, for no reason other than religion the Moroccan (and Muslim) world would be furious," he told WND.
He estimated that there may be in the range of 500 to 1,000 foreign Christians in the nation, with possibly another 1,500-3,000 Moroccans who are Christian.
"This number may be much higher but many groups meet in secret and don't share their information even with other Christian groups," he said.
The aid worker said it was just a few weeks ago when Christians started getting summonses from police in the nation that previously had been considered fairly moderate.
"Two of our (Christian) brothers were taken in different times by the police for a compulsory interview," he reported. "They were asking about people gathering regularly and (asking) especially for the foreigners attending the meetings. They had pictures of the whole group including us and … they pointed to our faces in the pictures asking for information about us."
He reported what happened when police came looking for him in a mission that apparently was called off.
"Police popped up in front [of] my building door asking me to join them (in going) to the police station with my passport and visa permit on hand. I … agreed. I jumped into the police car and while we were heading towards the police station they received a mysterious phone call. (It seems that they were receiving instructions) Right after they brought me back home," he said.
The next morning, eight workers in almost as many cities were approached by police and put in a deportation pipeline immediately, he said.
Already, workers in Tanger, Casablanca, Essaouira, Rabat, El Jdida, Nador and Fes have been impacted, reports said.
"All were fairly high profile 'targets,' (church planting team leaders) with longtime presence and language skills," Brother D reported. "In one case also a physical therapist was deported."
"They were given four hours to exit," he said.
Officials at the Moroccan Embassy in Washington, D.C., did not respond to a WND e-mail requesting comment.
Morocco has been dominated by Islamic interests since the 600s, when Arab Muslims moved into the region. In 711, the Berber chief, Tariq Iban Zyad, arrived in conquest of the area. Shortly later, Muslim control was consolidated.
The constitution provides for a monarchy with a Parliament and an independent judiciary.
The embassy website boasts that King Mohammed VI is directly descended from the prophet of Islam, Muhammad, through his daughter Lalla Fatima Zohra.
WorldNetDaily.com Inc