08 March 2010
Nigeria: Troops deployed to north after Christian killings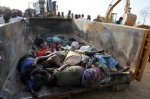 (AKI) - Nigeria's government sent in troops to the northern Jos region on Monday after at least 500 people were killed in attacks by machete-wielding gangs on Christian villages early on Sunday. Police said they had arrested scores in
connection with the attacks, which are said to have been carried out in revenge for Muslim-Christian clashes near Nigeria's city of Jos that killed hudreds earlier this year.

"We have been able to make 95 arrests but at the same time over 500 people have been killed in this heinous act," said Dan Manjang, an adviser to the Christian-dominated Plateau state government, in one report.

Many of the dead were women and children, who were hacked to death by the gangs, who were also armed with machine guns, officials said.

In January, 326 died in clashes in Jos between rival religious and ethnic groups, according to police, although rights activits said more than 550 had been killed.

Another Plateau state official, Gregory Yenlong, in a report urged people to "remain calm and be patient as the government steps up security to protect lives and property in this state".

Killing between Christians and Muslims, as well as inter-tribal massacres are common in Nigeria. Following its independence from the UK in 1960, ethnic tensions erupted into the three-year Nigerian-Biafran war resulting in the death of more than 1 million civilians either from the fighting or starvation.

A Red Cross spokesman said the security situation was "still in disarray" and that while its teams had been able to help evacuate some people to hospital in Jos, they were still trying to reach all those areas affected.

A dusk-to-dawn curfew has been in place since the four-days long clashes between Christian and Muslim mobs in January.