08 March 2010
Mother forced to leave her children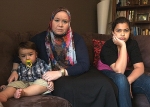 A MELBOURNE woman trapped for years in Saudi Arabia has been deported and forced home without three of her children, who remain with her allegedly abusive former husband.
The Australian consul and embassy officials surrounded the 33-year-old Muslim convert, Jennifer Birrell, as she collapsed on the road outside her Riyadh home and pleaded with her ex-husband: ''Please, don't take my kids from me.''
The children, Aliyah, 8, Salem, 7, and Ibraheem, 4 - all born in Australia - wept as they were separated from their mother before she was escorted to the airport with her two other children and flown to Melbourne, where they arrived late on Friday night.
After a long struggle to obtain exit visas for her family, Ms Birrell, who had been the director of English at Al-Yamamah University, says she was suddenly told this month she was being deported without charge or explanation - and with no right to the three children fathered by her ex-husband.
Her present husband, Mohammed Ahmed Nagi, the father of her baby son, languishes in jail in Riyadh where he has been sentenced to three years' incarceration and subjected to 300 lashes for ''destruction of the family''.
Ms Birrell says her ex-husband trumped up this home-wrecking charge six months after he had granted her a divorce in February last year.
The ex-husband, a Yemeni-born Australian citizen with a Saudi passport, allegedly renewed his sponsorship of Ms Birrell illegally after their divorce, falsely stating they were still married. He defied a judge's order to relinquish that control, which meant she could not get an exit visa.
''Now I'm expected to just accept that I will lose my children and not be able to see them for 10 years, and I can't even come back to Saudi to visit them,'' Ms Birrell said yesterday in Melbourne, where she, 11-year-old Jamilla and one-year-old Ahmed are staying, for now, with a friend.
Ms Birrell married her former husband in Adelaide in 1998. They moved to Saudi Arabia in 2004 with her eldest daughter and his three children, all Australian citizens. She left him almost two years ago after he allegedly threatened to kill her and bashed her with a candle stick, caving in her forehead.
Last month, on December 8, she says the Australian ambassador in Riyadh, Kevin Magee, called. ''He said we have a breakthrough in your case … you and all of your children can leave and go back to Australia.''
But the three children did not have passports. ''I took in the copies of my medical reports on the domestic violence I received at the hands of my ex-husband.''
Emergency passports were approved. But when the Australian consul, Benjamin Van Eldik, went to local authorities, she says, he was told the original order for her exit visas was at a police station.
After visiting the station, Ms Birrell says: ''He told me: 'Jennifer you just have to accept it. You are being deported without your children.'''
He had said the Australians were powerless and could not be seen to be interfering with Saudi law.
''He said, 'I know it's not easy but when you get back to Australia you can rain down hell on them for what they have done.'''
Ms Birrell says that, at the request of a friend, the son of Saudi Arabia's King Abdullah bin Abdul Aziz Al-Saud tried to intervene last Thursday. He had arranged a meeting with the king, but not until the day after her scheduled flight. She says an Australian official warned he would call the police if she did not board the flight.
A spokeswoman for the Department of Foreign Affairs said extensive consular assistance had been given to Ms Birrell and her children since March 2007 to help them return to Australia. She said Ms Birrell was the subject of an investigation for a ''serious criminal offence'' under Saudi law, though she could not elaborate.
Ms Birrell said she had not been charged and knew of no such offence.