25 February 2010
Nigeria – ICC Report: "Muslim Mob Burns Down Christian Shops, 8 Churches in Nigeria"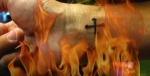 Washington, D.C. (February 23, 2010)–International Christian Concern (ICC) has learned that on February 21 a Muslim mob burned down several Christian
shops and eight churches in Kazaure, northern Nigeria. The mob carried out the attack after Muslim traffic police fatally assaulted a Muslim tractor driver. Unfortunately, it is common for Muslims to attack Christian minorities in northern Nigeria without any provocation by Christians.
The police chased the tractor driver for refusing to stop after a traffic violation in the city of Kazaure. The police caught the driver and severely assaulted him. The driver was later taken to a nearby hospital where he was pronounced dead on February 21 at 8 PM local time.
Soon after, a Muslim mob attempted to attack the police station but was chased away by the police. Enraged, the mob turned their attention instead on one of this region's most vulnerable targets-Christian churches and shops. The mob burned down the following churches: Deeper Life Bible Church, Catholic Church, Apostolic Church, ECWA Church, Redeem Christian Church, Anglican Church, Word of Faith, and Assemblies of God Church all in the city of Kazaure.
According to ICC sources, there had been tension in Kazaure after the January Christian-Muslim conflict in Jos, Nigeria, in which over 300 people were killed.
Most of the residents of Kazaure are Muslims. The city is located in the northern Nigerian state of Jigawa. Christian minorities in northern Nigeria regularly face discrimination and violence by the Muslim majority.
The Emir of Kazaure, the police authorities, and authorities of the Jigawa state have condemned the attack.
ICC's Regional Manager for Africa and South Asia, Jonathan Racho, said, "We strongly condemn the attack against Christian businesses and churches. We are seriously concerned with the attacks on vulnerable Christian minorities in Kazaure by Muslim mob. We call upon officials of the state of Jigawa and the federal authorities of Nigeria to fully investigate this latest attack against Christians and bring the perpetrators of the attacks to justice."
Please call the Nigerian embassy in your country and politely ask Nigerian officials to fully investigate this latest attack and bring the perpetrators of the attack to justice.
Nigerian Embassies:
Country
Phone
Fax
Email
USA
(202) 986-8400
(202)362-6541
UK
0207 839 1244
0207 839 8746
Canada
(613) 236-0521/3
(613) 236-0529
chancery@nigeriahcottawa.com
Germany
+49-(030) 21230
+49-(030) 21230212
info@nigeriaembassygermany.org