16 February 2010
Generation Jihad: Young people 'brainwashed with Al Qaeda propaganda on the internet'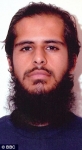 Religious extremists are increasingly turning to the internet to find, indoctrinate and radicalise young Muslims, according to a new documentary series
(Website: Aabid Hussain Khan was imprisoned for 12 years in 2008 on 23 counts of possessing articles for terrorism)
Like sexual predators they prey on vulnerable young people, quickly brainwashing them with Al Qaeda propaganda and very quickly turning them into potential terrorists.
New BBC2 series Generation Jihad claims that growing numbers of bright young men dubbed 'entrepreneurs of jihad' are using the internet as a tool to foster extremism.
Many prey on younger men and women curious to learn more about Islam but instead bombard them with anti-Western and vengeful rhetoric – leading to a generation of online recruits for jihad.
As with paedophiles approaching children in chat rooms, many parents have no idea who their children are talking to in online forums and what is being discussed.
These extremist predators – many of whom are under 25 and highly computer literate – are setting up blogs, websites and forums in which to find and indoctrinate teens.
The documentary claims these men are at the vanguard of a new type of terrorism because of the ease at which the internet is enabling people to make contacts, plan and communicate plots and learn the art of guerrilla warfare.
Highlighting the case of 22-year-old Aabid Hussain Khan who was imprisoned for 12 years in 2008 on 23 counts of possessing articles for terrorism, the programme reveals that he built a website from his home in Bradford aimed at recruiting 'jihadis from across the English speaking world'.
Khan, who had downloaded information targeting the Royal Family, was told by Judge Timothy Pontius he had shown a 'dedicated and unswerving devotion to the pursuit of fanaticism'.
(Threat: Haris Ahmed (left), who was jailed for 12 years in the U.S., was a quiet boy with a love of Disney movies before becoming influenced by Aabid Hussain Khan's website, which also supported Younes Tsouli (right)
He had built a website entitled At Tibyan, which at first glance appeared to be a forum for sharing Muslim texts, but once curious youngsters were drawn in, they were radicalised.
Detective superintendent Steve Fear of West Yorkshire Police said: 'Young people are invited to join these forums and then they are subjected to a very singled minded view that Al Qaeda put out. Khan was a sort of Al Qaeda predator on the website getting young people tuned into it.
'The scale of the material on his website took two years to get through. Material we discovered was stuff put out by Al Qaeda. It is how to poison people, how to avoid surveillance. This wasn't stuff that was readily available. This was not about curiosity. This was about training and how to carry out attacks on the country.'
Shockingly the website connected terrorists in Europe, Canada and America and even groomed Hammaad Munshi, Britain's youngest terrorist who was 16 when he was arrested.
Generation Jihad reveals how Khan's website also helped turn 22-year-old Haris Ahmed from a quiet boy with a love of Disney movies into an aspiring terrorit plotting a biological weapons attack on his hometown of Atlanta, Georgia.
FBI security expert Mark Giuliano said: 'The role of the internet in all this is incredible. It is almost scary because one, what is accessible now, and how easy it is to learn how to make an explosive device, secondly, jihadi forums and how easy it is to find them and find people to radicalise, and thirdly - the internet flattens out the world.
'It is scary how easy it is to take to somebody who has some explosives or to someone in Bangladesh who is getting ready to commit jihad. The internet simplifies and people are able to make these contacts.'
Ahmed was arrested and jailed for 12 years in the U.S. for his role in the terrorism plot, and will spend a further 30 on monitored release. He is not allowed to use the internet unmonitored until he is 65.
His father Professor Syed Ahmed said: 'I would give other parents this message. Don't let your sons, especially, and maybe your daughters, to go on chat rooms unsupervised. They may be being misled. Parents may think it would never happen to our children. That is what we thought. That was a mistake.'
The website and Khan also supported Younes Tsouli known as 'terrorist 007' who was Al Qaeda's online guru and propagandist. He was credited with distributing the beheading of American Nick Berg across the world.
He was also arrested last year but was a close friend of Khan. The pair initially made contact through internet forums before forming a terrorist cell in the UK.
Aaron Riseberg, an American expert and tracker of online jihadis said the internet meant that often young men ended up creating a 'self inflicted post traumatic stress disorder' leading to violence.
He explained: 'These young men expose themselves to violence and portrayals of violence [often by watching material from conflicts in Afghanistan and Iraq]. The effect it has is that they become extremely desensitised. They start wanting to carry out this violence on their own