12 February 2010
The "prophet Jesus" arrested in Bangladesh: he called for war against Jews and Christians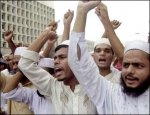 For the past two years the Islamic cleric has claimed to be Jesus, while another declares to be an important Islamic leader of the past. The two work together and have raised thousands of faithful. But police say that, in fact, they preach religious hatred, and arrest them.
Dhaka (AsiaNews) - The Islamic cleric Ansarul Haq has for the past two years said that he is Jesus Christ and has collected thousands of disciples around him. But police fear that fraud is taking place and have arrested the self-styled prophet.
Anaraul Haq works in the city of Ashramapara in the northwestern district of Thakurgaon about 300 kilometers from the capital Dhaka. He is joined by another Muslim cleric, Harun-ur Rashid, who in turn is said to be Imam Mehdi, a charismatic historical figure for Muslims.
March 5, 1999 the two formed a group called the Imam Mehdi Darbasarif. For the past two years they have declared themselves prophets, inviting followers to pray for the end of the world is near. In fact according to Islamic tradition the prophet Isaiah (Jesus Christ) will return to earth for doomsday, to restore justice and defeat the al-Kasi ad-Dajjal (meaning "false Messiah", the Antichrist).
The self-styled prophet proclaims that he will command Christians and Jews to recognize that there is only one true religious community, which is Islam.
But local sources reported that two "prophets" have begun to incite Muslims to violence toward Christians and Jews and say that it is time for a violent war against non-Muslims forcing them to convert to Islam. The two have attracted thousands of disciples and have published numerous books touting a violent war against non- Islamists and the forced conversion of everyone to Islam.
The police, however, has been careful and arrested the two prophets, along with their trusty collaborators Zahurul Islam and Mukut Rana, on charges that they were preparing violent actions against non-Muslims.
Safikur Rahaman, Thakurgaon police chief, told AsiaNews that there is a suspicion that this group is connected with Muslim terrorists and investigation are underway to show they were preparing attacks against non-Muslims. He repeats that, however, that this group has long attracted the Muslims by deception inciting them against non-Muslims.