07 February 2010
Church of England is 'living in the past', says BBC's head of religion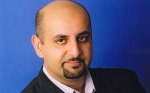 The BBC's head of religion has accused the Church of England of "living in the past" and said that the corporation should not give Christianity preferential treatment
Aaqil Ahmed, a controversial executive whose appointment last year prompted more than 100 complaints, said: "I think all the faiths should be treated in the same way. I don't believe in treating any faith differently."
He dismissed claims that the BBC was marginalising religion as overly simplistic and argued that Christianity, in particular, was already covered well on television.
His comments come on the eve of a debate at the General Synod, the Church's parliament, over the BBC's treatment of Christianity.
There has been growing concern at top levels of the Church over the corporation's approach to religion, with warnings that it must not ignore its Christian audience.
Dr Rowan Williams, the Archbishop of Canterbury, met last year with Mark Thompson, the BBC's director-general, to discuss religious broadcasting.
Bishops, clergy and lay members of the General Synod will vote this week on a motion calling on the state broadcaster to explain why its television coverage of Christianity has declined so steeply in recent years.
Output has fallen from 177 hours of religious programming on BBC television in 1987/88 to 155 hours in 2007/08 - a period during which the overall volume of programming has doubled.
However, in an interview with The Sunday Telegraph, Mr Ahmed, an award-winning programme-maker, said that the Church's criticisms were too simplistic.
"I don't believe that we should be basing the debate on 20-year-old figures, the conversation is far more complicated than that," he said.
"It's very easy to live in the past, but we live in the present. In a few years' time the way we're going to view television will change radically, so the conversation will become even more redundant.
"We'll listen to what they say, but we're clear that we know what we're doing and we'll stick to that."
Church leaders have been particularly criticial of the dearth of religious programmes shown on BBC television at Easter, with the Rt Rev Nigel McCulloch, the Bishop of Manchester, accusing the corporation of "overlooking" Good Friday.
While Mr Ahmed admitted that some mistakes had been made in the past, he said this year would see a change.
"In terms of Easter, it would be easy for me to start being critical of previous people, and I'm not going to do that. I'll put my hand up and say the BBC wasn't brilliant in the past, but all we can do is talk about this year going forward," he said.
Mr Ahmed - the first Muslim to hold his post - revealed that BBC One will air two explicitly Christian documentaries during Holy Week.
In one, Nicky Campbell, the Radio 5 Live presenter, will investigate whether Christians in Britain are being persecuted for their beliefs.
In the other, called The Day That Jesus Died, Archbishop Williams and Dr John Sentamu, the Archbishop of York, will explain why Muslims are wrong to see Christ's crucifixion as a humiliation.
Senior bishops wrote to Mr Thompson last year to question the BBC's commitment to Britain's Christian audience, but Mr Ahmed said that its Easter schedule showed their fears were misplaced.
"If you look at the BBC's religious output, Christianity is at the cornerstone," he said. "Despite what people say the vast majority is Christian-related."
Mr Ahmed's comment that Christianity should not receive preferential treatment comes despite nearly three-quarters of the population describing themselves as Christian in the last census.
Critics of the BBC are upset that respected religious programmes such as Everyman and Heart of the Matter have not been replaced, and that Songs of Praise and The Big Questions are the only regular religious programmes on BBC television.
Bishop McCulloch said at the time of Mr Ahmed's appointment that it had come "at a time when the BBC's coverage of religion has caused some disquiet".
Asked about the future of Songs of Praise, the corporation's flagship religious programme, Mr Ahmed praised the show and replied: "Who knows what's going to happen in five years, ten years time? I won't be here.
"There's absolutely no interest right now from the current management in changing it."