28 January 2010
Indonesia: Police hunt for Sumatra church attackers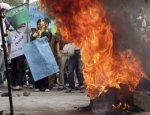 (AKI/Jakarta Post ) - Police are stepping up their hunt for suspects following attacks against two Protestant churches and a pastor's home in North Sumatra three days ago. Hundreds of Christians have fled the area since the attacks
But South Tapanuli police chief Adj. Sr. Comr. Subandriya said police needed to proceed carefully and avoid action that could further stoke tensions between Muslims and Christians in the area.

"Police want to deal with this matter properly to ensure it does not get out of hand," he said.

"Our job is to ensure this case does not develop into a serious racial or religious conflict," Subandriya told The Jakarta Post.

About 1,000 Muslims set fire to the two churches in Sibuhuan, in North Sumatra's Padang Lawas district late last Friday night in an incident that was blamed as a culmination of tension between Muslims and Christians over the presence of unregistered churches in the area.

The Friday attack, the first in the history of North Sumatra where both Muslim and Christian communities live together, caused no serious injury or fatalities, but forced hundreds of Christians to flee the scene.

According to the police, the churches were built in Sibuhuan in 1982. The construction was reportedly opposed by Muslim residents because they were constructed without building permits.

In 1992, the Muslim and Christian communities reached an agreement to stop construction, but the agreement was violated. The churches maintained activity and worship.

The churches' management said it had stopped church construction in December last year following a meeting with local officials, Christians and the Indonesian Ulema Council. It had also begun dismantling the church on 13 January.
posted by / http://www.adnkronos.com