28 December 2009
1960 Christians killed in Iraq since 2003 – survey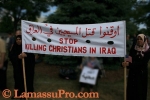 SULAIMANIYA / Aswat al-Iraq: Around 1,960 Christians were killed by gunmen in Iraq since March 2003, head of the Chaldean Cultural Association for Peace in Iraq said on Saturday.
"Christians in Iraq are going through miserable conditions," Hawal Ziqiya Masho told Aswat al-Iraq news agency.
According to the association's survey, property of at least 500,000 Christians were taken away and 200,000 Christians were forced to pay extortion money, while dozens others were kidnapped then released for ransom.
"Before 2003, there were around 2.1 million Christians in Iraq, but now there are not more than 500,000 of them," Masho said.
He criticized the Iraqi government for being unable to protect Christians, and said that it did not even fulfill its promises to compensate them.
"There is a plan to flush all Christians out of Iraq," Masho said.
He said that the violence plot against Christians in Iraq is supported by one of the neighboring countries. He did not name it.
MH (S)/AmR