03 August 2009
Nigerians count cost after uprising by Islamic sect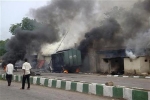 MAIDUGURI, Nigeria (Reuters) - Samuel Yunana's father, Fayam, was taken from his home, stabbed in the side of the stomach and told to convert to Islam. When he refused, his throat was slit.
Fayam was among more than 700 people killed in the northern Nigerian city of Maiduguri during an uprising last week by a radical Islamic sect which wants sharia (Islamic law) imposed across Africa's most populous nation.
Followers of Boko Haram, which means "Western education is sinful," attacked government buildings, police stations, prisons, schools and churches during five days of rioting before soldiers and police put the uprising down.
As a prison warder and a Christian living near the sect leader's compound, Fayam was a particular target.
"He was taken from his house by Boko Haram. They stabbed him and he was losing blood," Yunana told Reuters, pointing to a roundabout in front of a dilapidated railway terminus where his father was dragged.
"They insisted he was to convert to a Muslim. He refused, so on that basis they killed him," he said.
Nigeria is roughly equally divided between Christians and Muslims, and more than 200 ethnic groups generally live peacefully side by side.
Boko Haram treats anybody who does not subscribe to its ideology -- Christian or Muslim -- as an infidel and its views are rejected by the vast majority of the country's Muslim population, sub-Saharan Africa's largest.
Yunana's father lived in State Low Cost, a residential area of single-storey houses on tree-lined streets originally built for civil servants and inhabited by Christians and Muslims.
Its residents had lived alongside Boko Haram followers, distinguishable by their long beards and headscarves, for years. Few realized its members were being trained to wage a campaign of violence.
The sect's leader, Mohammed Yusuf, was shot dead in police detention last Thursday after being captured hiding among sheep and goats in his father-in-law's compound, next to the railway terminus where Yunana's father was killed.
Piles of broken concrete and twisted pieces of metal roof are all that remain of the compound after bulldozers and tanks brought in by the army to contain the uprising demolished it.
Loudspeakers which once adorned the minarets of Yusuf's mosque a few hundred meters away lie in the rubble. The smoldering remains of motorbikes and cars had been torched by soldiers, part of a military show of force meant to demonstrate that the authorities have wiped the sect out once and for all.
HOMES, GOVERNMENT BUILDINGS GUTTED
President Umaru Yar'Adua has said the intelligence agencies had been tracking Boko Haram for years and that the group was procuring arms and learning to make bombs in order to impose its ideology on Nigerians. Continued...