12 May 2009
Muslim Chef Sues Met Police Over Request to Cook Pork, Hearing Starts Tomorrow....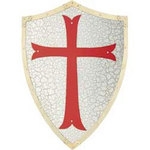 What are the odds this guy hits a major payday?.....
A Muslim chef is suing Britain's largest police force, claiming he suffered religious discrimination because he was expected to cook bacon and pork sausages for breakfast.

Hasanali Khoja is due to put his case against the Metropolitan Police to an employment tribunal, which starts a 10-day hearing in London tomorrow.
Mr Khoja, 60, whose claim is being backed by both the Association of Muslim Police and the National Black Police Association, says he was refused permission not to handle pork when he took a job as catering manager at a police headquarters in west London.
However, his plight has generated little sympathy in the mainstream of British society. Richard Littlejohn, a columnist for the Daily Mail, wrote: "There are some stories which are so preposterous on so many levels that it is difficult to know where to start.

"Whoever heard of a chef being excused pork? Naturally, he now wants a large sum of money by way of compensation. The Met has a long and undistinguished record of grovelling to this kind of opportunist bullying.
"What astonishes me is that he ever applied for a job cooking for policemen in the first place. What, precisely, did he think they serve up in a police canteen – vegetarian samosas?