05 May 2009
Egyptian Christians riot after swine flu cull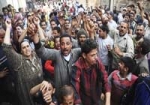 Egyptian farmers block the streets to prevent health ministry vehicles getting past to carry out the mass-slaughter of swine
Egyptian leaders ordered the slaughter of hundreds of thousands of pigs today to help protect against swine flu, prompting angry protests from the poor Christian farmers who feed their animals with a country's food scraps. The decision was also criticised as a "real mistake" by a senior UN food expert.

The Arab world's most populous nation has been been badly hit by the H5N1 bird flu virus in recent years and the move to cull up to 400,000 pigs - seen by Muslims as unclean animals - was designed to calm fears of an impending pandemic.

But it left Egypt's large Coptic Christian minority up in arms, especially the slum-dwelling "Zebaleen" rubbish collectors who rely on the hogs for their livelihood. Scores of them blocked the streets and stoned the vehicles of Health Ministry workers as they arrived to carry out the government's order at pig farms on the outskirts of Cario this afternoon.

"Our pigs are healthy. They are our capital and they have no diseases," said Adel Ishak, who feeds his pigs from the rubbish he collects in Manshiet Nasser, northeast of Cairo.

"We remind Hosni Mubarak that we are all Egyptians. Where does he want us to go?" added 46-year-old Gergis Faris, another pig farmer. "We are uneducated people, just living day by day and trying to make a living, and now if our pigs are taken from us without compensation, how are we supposed to live?"

The decison to cull the pigs was announced by Hatem al-Gabali, the Health Minister, after a meeting with President Mubarak. "It has been ordered to immediately begin the slaughter of all herds of pigs in Egypt," he told reporters.

Mr al-Gabali said slaughterhouses were to begin the culling process immediately at the fastest rate possible. Further precautionary measures such as the launch of an awareness campaign and increasing production of protective masks would also be taken, he said.

Magdy Rady, a Cabinet spokesman, put the number of pigs that could be culled at between 300,000 and 400,000. "If you see the conditions of the swine farms in Egypt, they are not healthy at all. They are hazards in themselves, even without the swine flu. That's why people are really getting afraid," he told the Reuters news agency, even before the decision was taken.

Officials said that the farmers would be offered compensation of 1,000 Egyptian pounds (£120) per pig but there seemed to be little confidence that the money would ever materialise.

Mr Ishak said that his community receives 6,000 tonnes of organic rubbish every day, but if the pigs die there will be nowhere to put the waste. "What is the use of compensation? It will feed us only for several months, what then?" he asked.

Egypt has not had any confirmed cases of swine flu yet but government experts fear a pandemic flu strain could spread quickly through the country because most of its roughly 80 million people live in the densely packed Nile Valley, many in crowded slums in and around Cairo.

The World Health Organisation has repeatedly said, however, that the newly mutated H1N1 virus is not found in pigs - although the animals can be the vessels for the "genetic reassortment" that produces new strains - and that pork meat is safe to eat.

Joseph Domenech, chief veterinary office with the UN Food and Agriculture Officer in Rome, said the Egyptian order was "a real mistake".

"There is no reason to do that. It's not a swine influenza, it's a human influenza," he said.