19 April 2009
Canadian returns home in fear after being beaten up by East End thugs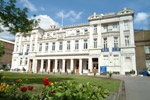 A CANADIAN student has quit Britain after being beaten up by four thugs in London's violent East End
Student Amit Ahluwalia told police he was returning to Toronto to "live in a safer country" after being punched to the ground in a fast-food takeaway.

But now the thugs who waylaid him and another student are behind bars after appearing in court.

Amit was one of four students including two women out for the evening from Queen Mary London University college campus at Mile End.

He tried to protect the women who the gang were molesting before rejoining his friends in a takeaway.

SCREAMING 'KILL'

The gang armed themselves with bottles and stormed in after them screaming they were going to kill him.

He fell to his knees and waited for what he described were "continuous blows from bottles and fists to his head," said prosecutors at Snaresbrook crown court.

Mr Ahluwalia, who has now returned to Canada, said in a statement he still suffers headaches and panic attacks from the "furious and repeated attack."

He told cops before leaving for Toronto: "I would like to return home and live in a safer country.

"I keep thinking I will encounter these four again and they will kill me."

His friend was attacked with a bottle during the incident at the takeaway before police arrived.

The four arrested, all Asians in their 20s from Whitechapel, Bethnal Green, Stepney and Poplar, admitted causing an affray and were each jailed for 13 months. Three had criminal records and one a police caution.