29 March 2009
Muggers leave teen 'scared to go out'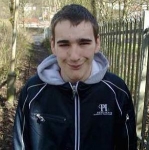 A TEENAGER says he is scared to go out alone at night after he was mugged just yards from his front door.
Martin Buckley, who has learning difficulties, was attacked by two yobs in a ginnel at the end of his street as he walked home on Sunday night.
The 19-year-old was punched and kicked to the face and body before the muggers ran off with cash and his mobile phone.
He was taken to Rochdale Infirmary for treatment and then allowed home.
Martin, of Falkland Avenue, Spotland, said: "My friend had walked me halfway home and I was just walking up the ginnel when these two lads came up to me and asked if I had any cannabis.
"When I said I didn't smoke it they got really angry and one of them punched me in the eye and stomach. I was really scared and nervous.
"I daren't walk about at night now unless I'm with someone else."
The muggers, who are described as Asian teenagers, rifled his pockets before stealing his £50 Samsung mobile phone and £5 cash.
Martin, a Hopwood Hall College student, added: "I was really angry afterwards and it took me a few hours to calm down.
"I think these lads are just thieves. I would like to get them back, but that would just make me as bad as they are."
The suspects are described as Asian, aged 16 to 20, wearing hooded tops and dark tracksuit bottoms.