05 March 2009
Muslim policeman suing Scotland Yard 'sacked after boasting he beat up vagrant' says white officers framed him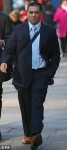 A Muslim policeman suing Scotland Yard for racial discrimination was sacked after boasting that he beat up a homeless man 'good and proper', an employment tribunal heard today.
Asad Saeed was accused of dragging the vagrant out of a McDonalds and threatening him during only his fifth night on patrol as a Police Community Support Officer.
But the 35-year-old claims he was 'fitted up' over the alleged assault by two racist white officers.
The men invented the story after he threatened to expose the 'apartheid' culture at Belgravia police station in central London where there were separate vans for white and black officers, he said.
However, Mr Saeed's immediate superior, Inspector Debbie Jallali, said in a statement that the day after the alleged assault he told her: 'I done the homeless man good and proper.'
The PCSO denied the claim and said that Inspector Jallali had been 'watching too many excerpts of EastEnders'.
He told the hearing: 'She's lying. When you have not done anything, why would you say to someone 'I done him good and proper'?'
Mr Saeed claimed at least seven other officers had also lied in official statements into the alleged assault and his claims of racism as part of the conspiracy to get him sacked.
The other 'liars' included an Asian sergeant and a black PCSO, who denied his claims about separate vans for white and black officers.
Mr Saeed said: 'This is the way the Met works. You have to be one of the boys, you have to tow the party line.
'There are those like me who resist, and those who just carry on.'
Mr Saeed said he quit a job earning twice as much as a warehouse distribution manager to become a PCSO in January 2007.
He said: 'As a Muslim Asian I wanted to give something back after the London bombings. I felt that I could put a bit of faith into the community. It wasn't about the money anymore.'
But after the allegation of assault in February 2007 he was suspended and later sacked.
He was reinstated after an appeal, but with three reprimands left on his record, meaning he would be unable to become a full police constable.
Mr Saeed, who is now working as a support officer in North London, is claiming compensation over how the assault charge was handled.
An internal Scotland Yard investigation found evidence of racist bullying at Belgravia police station, including the allegation that one white officer vowed to 'bring down all the lazy blacks, one by one.'
The hearing, at the Central London Employment Tribunal, continues.