09 January 2009
Life for murderer who set OAP alight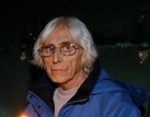 A POSTAL worker who burned and brutally battered a 79-year-old Burton widow to death has been jailed for life
Pensioner Ellen Portsmouth died 24 hours after the 'ferocious' attack on her by Irfan Salim, a man who had befriended her.

Salim, , 25, of Waterloo Street, Burton, punched, kicked and set the frail, 6st Mrs Portsmouth's hair on fire, Stafford Crown Court heard.

He left her with more than 60 injuries, including breaking 21 of her 24 ribs and fracturing her sternum.

The court was told that for two years, Salim had been a good friend to his victim, collecting her pension and running errands - but the reason he suddenly attacked her in her own bedroom remains a mystery.

Heath Westerman, prosecuting, said the murder took place on November 7 last year.

Mrs Portsmouth lived in rented property in Wellington Street, and the defendant was a friend of her landlord.

For the past two years, Salim had been caring for her, collecting her pension and doing her shopping.

On the night of the offence, he left work at Burton Post Office around 6pm and went straight to the Wellington Arms.

Afterwards, he went to Mrs Portsmouth's home to get more alcohol, but a row erupted between them and he attacked her.

She made a 999 call around 8.25 that evening, telling the operator she had been 'smashed up' and was in "considerable pain".

She was taken to hospital, but the following day she suffered a heart attack and died.

Her last words were to tell a police officer that after refusing Salim alcohol, she had 'given him what for' in the ensuing argument, but that he had given her 'a right beating'.

Mr Westerman said Mrs Portsmouth was 'a lonely, frail widow' with no children, but several siblings.

None of her family had made a victim impact statement. However, neighbour Tanya Plant described her as 'a second mum' who was always good and kind to her. Miss Plant said she would never forget the 'evil' done to her friend.

Darron Whitehead, defending, said: "Why did he kill her? Quite often you can see a motive . . . none of them exist here, and to all those who seek answers, they'll not find them because he can't find the answer.

"For reasons psychiatrists can't get to the bottom of, he snapped. He is a young man of previous good character, no history of violence.

"This was out of character, there were no signs this was going to happen.

"Ellen Portsmouth was someone he thought he could help - that may seem ironic.

"He would often sit with her at night talking when she was lonely. At no time had he ever raised his fist to her, at no time had they fallen out."

Salim admitted murder. Judge Simon Tonking jailed him for life and ordered he should serve at least 16 years and eight months before being considered for parole.

He told Salim: "You set about her in a brutal, sustained and cruel attack.

"The setting fire to her hair was a cruel and degrading act. Finally, having done what you did to her, you left her in distress and seriously injured, you left her to her fate, went home and went to bed."

In a letter to the judge, Salim said: "I know I have committed an awful, disgraceful crime. I am truly and deeply sorry. I wished it had never happened at all. I'll never drink again, ever."

Inspector Javid Oomer, Neighbourhood Policing Unit Commander at Burton, said: "Although we may never know what motivated Salim, this was a vicious and unprovoked attack on an elderly woman.

"The taking of Ellen's life was a violent and senseless act and our thoughts are with her family and friends."