09 January 2009
BREAKING NEWS: Racist vandals attack Baptist church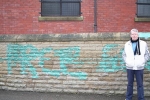 Heartless vandals have defaced a popular church with racist slurs
Dennis and Barbara Rigg, who run the Zion Baptist church, Deeplish, were horrified to discover their place of worship had been covered in hateful graffiti, including swear words and references to Israel and the bombing of Gaza.

The couple, who had recently moved from Grimsby specifically to revamp the church, had recently been celebrating their success after a huge increase in members.
But today (Friday 9 January) they woke to the upsetting news that the walls they protect had been covered with abuse.

Dennis Rigg spoke to Rochdale Online about his upset, but explained he anticipated the attack. He said: "It was a nasty thing to do but we expect to be attacked and insulted.

"Zion means Israel, and it seems someone has made the connection between our religion and the bombing of Gaza.

"It really is sad news to know we are thought of this way."

Mohammed Shafiq, Cheif Executive of the Ramadhan Foundation said:"I am appalled at the attack on the Zion Church in Deeplish, Rochdale. Islam totally forbids this sort of evil and we offer our support to our Christian friends.

"The Ramadhan Foundation urges the community to work with the Police to bring these racist thugs to justice".
Councillor Angela Coric has arranged for the graffitti to be removed this afternoon. She said: "I have already been in contact with the Council's Grafitti removal team and I have been advised that they will be on the job this afternoon.
"I have always said we need to have an understanding and mutual respect of each other's faiths. That is the only way forward."
UPDATE

******************************

The graffiti has now been painted over by the Council.

Dennis Rigg is set to appeal to the Deeplish Area Forum on Monday (12 January) about the possibility of getting CCTV cameras in the area.

Photographs of the graffiti will appear with this story later this afternoon