07 January 2009
Australian Cultural Conservative Relies on Muslims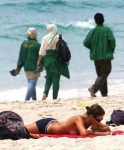 The Sydney Morning Herald carries an interesting story today, "Topless ban to protect Muslims and Asians: Nile." The "Nile" is Fred Nile, an ordained Methodist minister and a member of the New South Wales parliament for the Christian Democratic Party, who argues that, to protect the sensibilities of Sydney's Muslim and Asian communities, topless bathing by women should be banned from NSW beaches.
Australia's reputation as a conservative but culturally inclusive society was at risk of erosion by more liberal overseas visitors, he said. "Our beaches should be a place where no one is offended, whether it's their religious or cultural views," he said. "If they've come from a Middle Eastern or Asian country where women never go topless - in fact they usually wear a lot of clothing - I think it's important to respect all the different cultures that make up Australia." The practice was at risk of raising the ire of Muslim men in particular, Mr Nile said. "I don't want to have any provocations or disturbances on our public beaches," he said. … "I think if you survey Australian women you'll find a lot of women would be uncomfortable if it became the custom [to be] topless at the beach," he said. "Australia's always been a conservative country as far as beachwear goes. Once being topless is accepted as lawful the next question will be why can't women go totally nude on a public beach and I don't think Australians want to go down that pathway."
Politicians generally responded by noting that beach practices are an issue for local councils to decide, not state governments; and that they have not heard complaints about topless women. Further, an informal SMH on the topic finds 7 percent agreeing with Nile about a general ban, 10 percent agreeing to a ban on some beaches, and a whopping 83 percent against any sort of ban.
Comment: (1) The Vatican has made common cause with the Iranian regime on sex issues, but this is something different - whereby a Christian minister uses purported Muslim views to forward his own cause. Is it a one-time event or the beginning of a trend? (2) Whatever its importance, it amounts to dhimmitude. (December 30, 2008)
POSTED BY / http://www.danielpipes.org