06 January 2009
Copts (CHRISTIAN OF EGYPT) that become Muslims without knowing it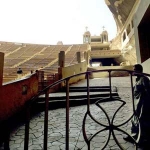 When he took a new wife, Rami's father opted for a new life with new children and a new religion: born a Copt, he converted to Islam, the religion of his second wife
Rami from his part, grew up "normally" next to his mother like a little Copt, he followed religion courses at school (mandatory in Egypt) for Christian students, he went to church once a week and considers himself a young man with a solid faith.

He left school in his teenage years to dedicate himself to the job he still practises today, that of artisan jeweller, and engraves silver jewellery. Rami's peaceful life changed dramatically in 2002, on the day he went to the Civil Status Department of the Ministry of Interior to recover his new identity card. On that day, he discovered that the civil servants of the Ministry of Interior changed, without consultation, his religion and his name. On his new identity card, his religion was mentioned as Muslim and his name wasn't Rami Naïm anymore, but Rami Abdallah Abderrahmane Amine.

It looked like a bad joke, but it wasn't, a real tragedy hit on this young man. The fact that civil servants could think they have the right to convert citizens behind their back revolted him, "even if I wasn't the Copt believer I am, I find this unacceptable. If I am to choose a religion, it must be of my choice and not be forced to do so without even being informed", he says with extraordinary calm.

Sitting on the bench of hall number 12 at the High Administrative Court of Cairo, Rami is like a Bouddha of patience in jeans and jacket, slicked hair, a shy look but a determined tone of voice. He knows this hall by heart by now, it's the fourth time in two years that he comes to hear the verdict for his complaint, a verdict that each time was deferred to a subsequent session.
"I was very young when my father left my mother and today I don't even know what he looks like. I'm sure that he's the one who went to request for my change of name and religion", he tells with cold anger, as if to entertain the endless waiting.

But if for Rami this absurd battle is firstly fought against an invisible and despised father, for several other young Christians it has become an arm wrestling against an arbitrary and senseless mechanism, because their fathers who have converted to Islam, support them and go to the witness box to tell the judges that their choice mustn't affect their children who have chosen to remain Christians.

Even in these cases "it's almost useless", sighs Rami's lawyer, Adel Ramadane, a young man of the same age, who works for the Egyptian Initiative for Personal Rights.

According to this organisation that published a report (Prohibited Identities, December 2007) in cooperation with Human Rights Watch on religious discrimination in Egypt, 89 Egyptians have pressed charges for having been converted to Islam unbeknown by the civil servants of the Ministry of Interior. These directors of conscience decide – in violation of Egyptian laws, reminds the report – that the child whose parents are affiliated to two different religions must follow "the best out of the two religions", namely, it goes without saying, Islam.

This battle is not only a battle of principle, but the change of name and religion on the identity card can concretely affect lives. Since in Egypt, the national identity card is essential for the least transaction, whether it be financial, banking, administrative, for the smallest trip, within the country or abroad, to register at university or to purchase property, for the driving licence, to simply vote or even worse, to get married in a country where mixed marriages are not tolerated.

According to Mr. Ramadane, such judicial affairs didn't exist before the mid 90's, when the Egyptian government decided to modernise and computerise the data of the civil status. Since then, the number of Egyptians fighting to change the religious mention on their national identity card has increased proportionally to the rise of religious conservatism in society.

Yet, affirms Mr Ramadane, "up to the year 2006, this court systematically ruled in favour of the plaintiffs, supporting their claims against the Ministry of Interior", therefore forcing civil servants to apply, though reluctantly, the court's decision, and to inscribe the desired religion on the identity card and not the imposed one. "Unfortunately, the judge who used to rule the verdicts in favour of our plaintiffs retired last year and the one that replaced him doesn't appreciate at all the fact that one wants to change religion when it involves abandoning Islam", underlines Mr Ramadane, who equally defends numerous Egyptians hindered by the administration, born Copts, converted to Islam and wishing to become Christians again.

Yet, changing religion, even if being Muslim, isn't forbidden by any Egyptian law; the Constitution forbids discrimination on religious grounds or on any other ground and clearly guarantees the freedom of worship and cult. Furthermore, a status law that dates back to 1994, has allowed Egyptians to change and correct the information on their identity cards, including religious filiation.

But the civil servants and some judges apply non written rules, the ones that follow one out of a thousand interpretations of the Charia, stating that a Muslim who wants to change his religion is an apostate.

The new supercilious judge of the High Administrative Court of Cairo dismissed more than 70 converted Muslims who wished to become Christians again, arguing, "to change religion constantly is equal to making fun of religion".

Then on February 2008, a verdict was welcomed by the defenders of human rights and freedom in Egypt as the first major victory:12 Copts that had converted to Islam, then reconverted to Christianity, were allowed to change their religion item on their identity cards. But the happiness among those who were waiting for their verdict was short, as the Ministry of Interior refused to follow the verdict. Now these claims are waiting to pass a final and unappealable verdict at the Supreme Court.

Cases like that of Rami, fewer than those who have chosen to convert to Islam and wish to go back on their choice, depend on this verdict. A verdict whose date no expert can predict.
POSTED BY / http://www.babelmed.net