31 December 2008
EXTREMISTS TARGET CHURCH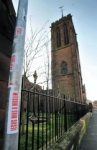 ISLAMIC extremists have been condemned after plastering Burton streets with stickers bearing the slogan 'Jesus was a Muslim' - one day before Christmas.
The stickers appeared on the morning of Christmas Eve on lampposts in the Horninglow and Shobnall areas of town, and outside religious buildings including St Chad's Church, in Hunter Street.

The stickers - believed to originate from fundamentalist Muslim group Islam For The UK, as they included the group's website address - provoked an angry response from people living nearby.

"I think it's disgusting that someone would do this the day before Christmas, when we are supposed to be spreading racial harmony," one resident, who asked not to be named, told The Mail. "It's a real slap in the face for Christians."

Another resident said: "Apart from anything else, they have made a right mess of the streets - the stickers are not easy to peel off."

Julia Elliot, churchwarden of St Chad's Church, said she found the stickers 'very hurtful and very offensive', while Ron Clarke, East Staffordshire Borough Council member for the Eton Park ward where the church is located, condemned the extremists responsible.

"I think it's very disappointing that we've got this small element making things difficult, as opposed to everyone else trying to integrate, harmonise and work together," he said.
"The fact that there are so many of these stickers shows it is a premeditated effort by this group, who are obviously out to create disharmony.

"I hope the people who have done this are caught and dealt with by the appropriate authority."

On its website, Islam For The UK calls for Islamic Shari'ah law to be implemented in Britain, and condemns those Muslims who take part in Christmas celebrations.

Under the heading 'Christmas - The pathway to hellfire', an article on the website says observance of Christmas by Muslims will 'lead to hellfire - a punishment which is 70 times hotter than the fires of this world'.

It claims any celebration of Christmas is prohibited, including sending Christmas cards, attending festive events or wishing someone 'Merry Christmas'.

Chief Superintendent Mick Harrison, commander of Staffordshire Police's Trent Valley division, told The Mail: "Police are aware that a large number of stickers have been placed on buildings and street furniture in the Horninglow area.

"Action is being taken to have these stickers removed and we are carrying out an investigation. We would appeal for help and information from the community.

"Although we are extremely disappointed this has happened, we are confident local residents will support our view that having and showing respect for other people and their beliefs is at the very heart of a strong community, and that incidents such as this will not deflect from the excellent relationship people have developed over very many years."

Anyone with information is asked to telephone Burton police on 0300 1234455 or Crimestoppers anonymously 0800 555111.

Representatives of Burton's Princess Street Mosque declined to comment on the matter when contacted by The Mail.
POSTED BY / http://www.burtonmail.co.uk