26 December 2008
EU parliament head presses Arabs to allow churches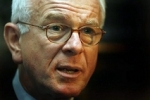 RIYADH (AFP) – EU Parliament President Hans-Gert Poettering called on Arab governments on Tuesday to allow Christian churches to be built in their countries in the same way that mosques can be built in Europe.
In Saudi Arabia, at the end of a tour of Gulf countries to boost cooperation between the two regions, Poettering said Arab governments need to be more tolerant of other religions.
"It is vital that we get a better understanding of the Islamic culture," he said.
"But it's a two-way road. We ask for tolerance for Christians ... in the Arab world. It's mutual."
Poettering said at the end of a tour of Oman, Bahrain, the United Arab Emirates and Saudi Arabia to discuss EU-Gulf relations that he had pressed the point of religious freedom in all his meetings.
He pointed out that while he was able to attend a Roman Catholic mass during his stop in Muscat, he could not do the same in Saudi Arabia. As home to Islam's holiest sites Mecca and Medina, the latter maintains that it cannot allow the practice of other religions.
"There are hundreds of thousands of Catholics here. We have Christmas tomorrow and they cannot assemble in a church," Poettering said after meetings with top Saudi officials, including the foreign minister, Prince Saud al-Faisal, and officials from the Organisation of the the Islamic Conference.
Although nearly all Saudis are Muslim, the country is host to millions of foreign workers, including more than one million Filipinos, most of whom are Christian.
He said the Saudis told him a mosque would not be permitted in the Vatican, the seat of the Roman Catholic church.
But he argued that mosques are allowed across most of Europe, and that governments on both sides have to respect rights of religious worship.
"In Mecca and Medina I can understand there are no churches," he said. "But not for the whole country."
POSTED BY / http://news.yahoo.com