20 December 2008
Thug jailed after stabbing police officer and his dog during arrest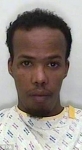 A man who repeatedly stabbed a police officer and his dog in a vicious attack was jailed for nine years today.
Essa Suleiman, 26, attacked PC Neil Sampson and his dog Anya as they tried to arrest him in January this year.
The policeman suffered stab wounds to his head, face and leg and the dog was stabbed in the chest during the attack, while another officer was also assaulted.
Suleiman pleaded guilty to two counts of grievous bodily harm with intent, one count of actual bodily harm and one of criminal damage.
Sentencing him at Swindon Crown Court the judge ruled that he must spend at least half his sentence in custody.
Suleiman wasjailed for nine years over the attack
PC Sampson said: 'This was an unpleasant experience not just for me but for all the officers and members of the public who were involved.
'I am relieved that the criminal process has come to an end and would like to thank everyone for the wonderful support that Anya and I have received since the attack.
'I am particularly grateful to the officers who were involved in the incident with me and the ambulance and hospital staff who treated me so well.'
The pair returned to full-time duties in August following the attack on January 3.
Wiltshire Police Assistant Chief Constable Andy Marsh praised the pair for their actions.
'It was a vicious, brutal attack in which Neil and Anya received horrific stab injuries requiring hospital treatment and keeping them away from frontline duties for many months,' he said.
'This incident demonstrates how officers will act quickly and without consideration for their own safety to detain offenders and protect the people of Wiltshire.
'Events of this nature are fortunately rare but it does highlight the demanding role that police officers undertake for their community.
'A small number of people think it is acceptable to carry knives and this is one of the dangers we face.'
POSTED BY / http://www.dailymail.co.uk