11 December 2008
Clashes in Maluku, 45 houses and a church set on fire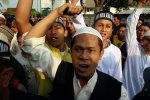 Violence is sparked when a group of Muslims accuse a teacher of blasphemy. Intervention by anti-riot police re-establishes order, but tensions remain high. Stores and offices are closed.
Jakarta (AsiaNews) – A group of 500 Muslims wrecks havoc and spreads panic in Masohi, chief town of Seram, part of the Maluku Islands, during clashes with police and local Christians with the result that 45 houses, a church and a village hall are set on fire.
The spark that set off the violence is an in incident in which a teacher allegedly insulted Islam in front of some Muslim students.
Once the story spread the local Indonesian Ulema Council (MUI) mobilised, rallying some 500 people in front of the Central Maluku Education Agency. For more than an hour they protested, accusing the teacher of blasphemy and calling for a dismissal.
After that the protesters marched to police headquarters, which is near the school.
Once told that the police chief was out of town most demonstrators left but a group confronted police.
In the following clashes violence spread to Letwaru district, involving Christians and Muslims. In the end five people were hurt.
As a result of the violence houses and church were set on fire as well as public vehicles parked nearby.
Only the intervention by anti-riot police re-established order, but tensions remain high.
News about the incident in Masohi spread across Seram Island and rekindled memories of the Maluku War of 1999-2000 when Muslims and Christians clashed, with thousands of dead.
At present police is on a heightened state of alert whilst stores and offices closed as a precautionary measure.
Law enforcement authorities have identified those responsible for the clashes.
For his part the teacher who sparked the incident is currently in police care