28 November 2008
(ANSAmed) - BEIRUT, NOVEMBER 27 - Pan-arab satellite programs and their main internet sites have paid modest attention to the attacks in Mumbai which caused more than 100 deaths, while 'jihadist' sites limited themselves to
Suspected rogue Muslim rebels on Wednesday night detonated a bomb in front of a Christian religious site in Kabacan town in North Cotabato while an attempt at another similar site Thursday morning was aborted by security forces, according to a military spokesman
27 November 2008
Four teenagers of Moroccan origin were arrested Saturday evening for setting fire to the Vaste Burcht Reformed church in Gouda. A Molotov cocktail was thrown at the door of the church, according to the police. The bottom part of the door and the doormat were damaged.
18 November 2008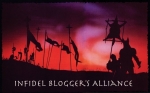 To any of our fellow Conservatives who think school vouchers are a good idea, get a load of this.
Toronto - Eight Muslim women who filed a human rights complaint against the United Parcel Service (UPS) over the dress code have settled with the company

(AINA) -- A Christian bishop received a threatening letter written by Ansar al-Islam, a Kurdish Muslim group affiliated with al-Qaeda in Iraq. The letter ordered the Christians to leave Iraq en masse and stated it is sending a final warning
17 November 2008
The FBI has sharpened its scrutiny of some Phoenix-area Muslim leaders because of their links to two controversial incidents and a federal probe into the financing of terrorist groups
A mother of two from north London who dishonestly pocketed a £228,000 benefits and mortgage fortune to help build a secret property empire has been jailed for 18 months.
07 November 2008
MUMBAI : Maharashtra Chief Minister Vilasrao Deshmukh on Thursday assured Muslims that the Governmemnt would give them preference in police