15 September 2008
Benbrika found guilty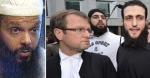 A Supreme Court jury has found Melbourne man Abdul Nacer Benbrika guilty of leading a terrorist organisation in Australia's biggest-ever terrorism trial.
Benbrika, 48, of Dallas, was found guilty of intentionally directing the activities of a terrorist organisation and of being a member of a terrorist organisation.
Five of Benbrika's followers have been found guilty of intentionally being members of a terrorist group. Aimen Joud, Fadl Sayadi, Ezzit Raad, Ahmed Raad, Abdullah Merhi were all convicted.
Pre-sentence hearings for the convicted men will take place on 18 November.
Four men were acquitted - Hany Taha, Majed Raad, Shoue Hammoud and Bassam Raad. They left court after hugging their co-accused.
The jury is yet to decide on the fate of Shane Kent and Amer Haddara.
Benbrika's lawyer, Remy van de Wiel, QC, said he hoped to speak to his client within the next two days.
"He has been, I think, very stressed through these entire proceedings."
The courtroom was packed with media, lawyers and police. There did not appear to be any family members or friends of the 12 men accused in court.
The 12 men, from Melbourne's northern suburbs, all pleaded not guilty.
The jury - made up of nine women and three men - took over three weeks to decide their fate.
Bassam Raad, 26, of Brunswick, Majed Raad, 24, of Coburg, Abdullah Merhi, 23, of Fawkner, Aimen Joud, 23, of Hoppers Crossing, Shane Kent, 31 of Meadow Heights, Ahmed Raad, 25, of Fawkner, Fadl Sayadi, 28, of Coburg; Ezzit Raad, 26, of Preston; Hany Taha, 33, of Hadfield; Shoue Hammoud, 28, of Hadfield and Amer Haddara, 28, of Yarraville, were all charged with intentionally being members of a terrorist organisation.
Abdul Nacer Benbrika was also charged with directing the group's activities and possessing a compact disc knowingly related to the planning of a terrorist act. Continued...
POSTED BY / http://www.theage.com.au/