08 September 2008
Eleven year old Pakistan Christian girl allegedly raped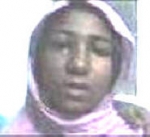 Incident 'took place' a day ahead of Ramadan
SARGODHA, PAKISTAN (ANS) -- A Muslim master allegedly raped his eleven year old Christian domestic servant on September 1, 2008, a day ahead of the advent of Ramadan.
Sana, the alleged rape victim, told ANS that the man she was working for had been making attempts to sexually abuse her since she started working at his house.
A resident of Gunnianwala, Sana said she had confided to her mother, Mumtaz, about the unease she was experiencing while working at this house.
Economic worries, however, forced the impoverished girl to continue working for her master amid fears of being sexually assaulted.
"He continued to harass me even though I told him that I would tell his wife if he did not stop harassing me," said the alleged rape victim.
Sana said the accused allegedly raped her in the afternoon on September 1. She claimed that the man and his wife threatened her with dire consequences if she ever revealed the truth.
The All Pakistan Minorities Alliance (APMA) Zonal Youth Coordinator, Furrukh Tanvir Chaudhry, told ANS that the wronged family approached him when the girl did not reach home.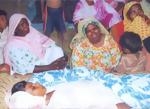 Sana and her family members
He said he helped the family file an application in the Sargodha Satellite Police Station against the accused.
"[The man] kicked Sana out of his house when he learnt that an application had been lodged against him at the police station," he alleged. "It merits mentioning here that the Police have arrested [the man] and are investigating."
Chaudhry said they rushed the girl to the district headquarter Sargodha hospital on September 2 where he claimed that the attitude of the medics was "callous" and "indifferent."
"They would have never agreed to do medical examination of the girl if Tahir Naveed Chaudhry, a Member of the Punjab Provincial Assembly, had not intervened," he claimed.
"You are simply not doing the examination of the girl since she happens to be a Christian," Furrukh quoted Tahir as saying to a doctor at the hospital.
Chaudhry added, "We are optimistic that Sana's medical examination would be done tomorrow."
POSTED BY / http://www.assistnews.net