06 June 2008
Proposal over Muslim churches triggers holy fury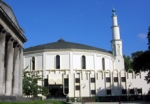 There has been an outcry in Belgium over a proposal to convert little-used churches into mosques. A senior official in Antwerp argues too many of the city's churches stand empty most of the time and he has put forward suggestions to convert them into mosques to benefit the city's large Muslim population.
Philip Heylen, who is deputy-mayor, says he wants to "break the taboo" over the future of the city's churches, many of which have dwindling and ageing congregations. He shrugs:
"It's a looming issue yet it seems impossible to have a debate about this, churches were built as places of worship and they should not be used as shopping malls. We've approached various religious groups and had a positive response from members of the Muslim community, which is open to the idea of converting them."
The proposal would allow Antwerp's Muslims to have a proper place of worship, instead of
gathering in garages or private houses, as is often the case now, Mr Heylen says that it would also provide an alternative to building new mosques, which remains a sensitive issue.
Christian havens

But Mr Heylen's comments have sparked opposition from both Christians and Muslims. Antwerp's bishopric is smarting from not having been consulted and argues that the matter is in its own hands.
Meanwhile, many of the city's priests insist that their churches fulfil an important function, even if they attract few worshippers. "This is not acceptable," says Father Jan, who runs the Sint-Willibrordus church, an imposing neo-Gothic building in an immigrant neighbourhood.
He admits that the aisles are "far emptier than fifty years ago" but he rejects claims that church-goers are dying out:
"There is a resurgence, more young people are coming back to church and we now have our Polish and Sri Lankan communities."
Sports-halls not mosques
One local resident who lives opposite the church says flatly:
"Frankly we already have more than enough mosques here. We would be better off turning it into a sports-hall."
In a Moroccan café in Borgerhout, a predominantly north African neighbourhood, men sit around tables playing cards and drinking tea. Although some say they are open to the idea, most argue that it is unworkable because "millions" would be required to convert the churches, to say nothing of the insurmountable challenge of them not facing Mecca. Omar, an electrician, makes the final comment:
"This is dangerous, it will only lead to resentment, it's better to keep places of worship strictly separate."
posted by / http://www.radionetherlands.nl/currentaffairs/region/euro...