23 May 2008
Muslim fanatics 'radicalised mentally ill convert into becoming a nail bomber'
Anti-terrorist police are today examining the home of a Muslim convert who allegedly detonated a nail bomb in a family restaurant.
Nicky Reilly, 22, who has a history of mental illness, suffered serious facial injuries after one of two devices exploded in the lavatories of the Giraffe eaterie in Exeter. He is currently under armed guard in hospital.
The team of detectives from Scotland Yard's Counter Terrorism Command are also trying to establish if he had been radicalised.
Devon and Cornwall Deputy Chief Constable Tony Melville said Reilly appeared to be a "vulnerable" individual who had been "preyed upon" and "radicalised".
He said: "Our investigations so far indicate that Reilly, who has a history of mental illness, had adopted the Islamic faith.
"We believe that he was preyed upon, radicalised and taken advantage of."
Reilly was arrested by police at the scene of the explosion. He suffered lacerations to his eye and some facial burning after one device exploded.
Another device found in the vicinity of the restaurant did not explode.
None of the customers or 15 staff at the restaurant was hurt.
The £230million Princesshay shopping complex, where the restaurant is situated, together with a number of shops and offices in the adjacent High Street, were evacuated for several hours after the blast at lunchtime yesterday.
The Plymouth first-floor flat Reilly shares with his mother is currently being searched by police officers. It was from here that he'd travelled by bus to Exeter.
Scott Allen, who lives in the flat below, said Reilly could have come into contact with groups of what he believed were Muslims who gathered in the area.
Mr Allen, who said he'd grown up with Reilly, said there was sympathy in the local community for the 22-year-old and added: "I would say they picked on him because of his vulnerability.
"He had always been a follower and had always wanted friends."
Mr Allen added Reilly, who is about 6ft 3in and weighs around 14 stone, had become more reclusive over the years.
"When he did go out he would not speak to anyone," said Mr Allen, who added that his neighbour used to collect James Bond model cars and played games on his computer.
Another neighbour, 17-year-old Aly Turner, said he understood Reilly was "into" the Muslim faith, but did not talk about it to him.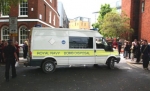 He did not talk to many people," he added.
He went on: "He was a bit of a recluse, he did not have many friends locally."
Police and bomb disposal teams were called in yesterday after diners at the Giraffe restaurant in Exeter city centre heard three blasts go off in a toilet as they were having lunch.
Two explosive devices were made safe and have been sent off for forensic examination.
Deputy chief constable Melville said: "Witnesses described how a male entered a toilet in the restaurant shortly before an explosion was heard."
Officers had to break down the cubicle door because the man refused to come out, witnesses said.
When he emerged, wearing jeans and a dark t-shirt, blood was running down his face and all over his clothes.
A 14-strong team from the Metropolitan's Counter Terrorism Command has travelled to Exeter to assist in the investigation.
Architect Peter Lacey, 63, and his wife Celia, 60, had just arrived to have lunch at Giraffe when the explosions went off at about 12.50pm.
Mr Lacey, from Exeter, said: "I heard a noise which sounded like a gunshot and at first I thought it was a kitchen accident of some sort, albeit a very noisy one.
"About a second afterwards there was another identical sound and maybe a second later a third.
"I think everyone in the restaurant thought the same as us.
"They thought the first blast was something normal, when they heard the second there was doubt and when the third one happened it turned to concern.
"There was absolutely no panic and I heard one customer say after the first bang they thought a light bulb had popped.
"We were sat very close to the opening where there were doors to the two toilets, one of which is disabled and the other is a cubicle used by both men and woman.
"I could tell the sound came from the cubicle but I was not in a position to see if there was a flash.
"Afterwards I saw a little piece of orange material which looked as if could have come from a cartridge and which may have been blown under the door.
"The staff tried to get into the toilet but it was locked and they must have called the police.''
Giraffe is a national chain of restaurants which are popular with families as they give out balloons and crayons to children.
Juliet Joffe, a director of Giraffe which has 21 restaurants and five franchises across the UK, said: "I have been given no explanation. As far as I am aware only one man was hurt, the man they think walked in with the device.''