25 April 2008
7/7 jury see video of terror ringleader grooming his baby daughter to battle for Islam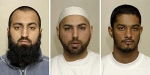 Cradling his baby daughter in his arms, the ringleader of the July 7 suicide bombers says goodbye to her in an extraordinary family video.
At one stage, an emotional Mohammed Sidique Khan appears to be preparing six- month- old Maryam for a future as a terrorist, urging her: "Learn to fight, fighting is good."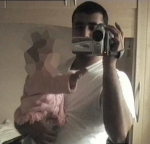 He added: "Be mummy's best friend. Take care of mummy - you can both do things together like fighting and stuff." Be mummy's best friend. Take care of mummy - you can both do things together like fighting and stuff."
The video was today played to Kingston Crown Court where three men are standing trial accused of helping plan the 2005 attacks on the London transport network.
It was shot two days before Khan flew to Pakistan in November 2004 and the jury were told it was a "farewell" before he left to "fight jihad".
In fact there was a "change of plan" during the trip and Khan returned to the UK where he masterminded the July 7 attacks which killed 52 people.
In another clip, shot in October 2004, Khan is seen introducing his daughter to her "uncles" - fellow bombers Shezhad Tanweer and Hasib Hussain and defendant Waheed Ali.
The farewell message which was recorded on November 16 2004, shows Khan holding his daughter and gently kissing her head.
He says: "Sweetheart, not long to go now. And I'm going to really, really miss you a lot. I'm thinking about it already. Look, I absolutely love you to bits and you have been the happiest thing in my life. You and your mum, absolutely brilliant.
"I don't know what else to say. I just wish I could have been part of your life, especially these growing up - these next months, they're really special with you learning to walk and things.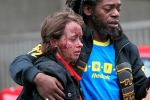 "I just so much wanted to be with you but I have to do this thing for our future and it will be for the best, inshallah, in the long run. That's the most important thing.
"You make plenty of Dua (special prayer) for you guys and you've got loads of people to look after you and keep and eye on you. But most importantly I entrust you to Allah and let Allah take care of you. And I am doing what I'm doing for the sake of Islam, not, you know, it's not for materialistic or worldly benefits."
The video recording was among a variety of items given by Khan's wife Hasina Patel to a friend Faiza Rehman who handed it to police in the aftermath of the July 7 attacks.
The jury was also shown extracts from Hasina Patel's diary, which was seized by police from their home in Dewsbury, in which she had scrawled on November 18 2004: "Sidique leaves - 6.30am."
Further entries show that Khan rang his wife four times before she wrote in her diary on November 25: "S rang. Good news!"
The following day she wrote: "S rang - good news - back by Feb?"
The court heard that in other entries reference was made to ringing Ali and the girlfriend of bomber Jermaine Lindsay. On December 15 she wrote: "Did Siddique's resignation letter."
On December 26, the day Ali and Saleem flew to Pakistan, Khan's wife wrote: "S etc left." The jury was told that the next entry of note was on January 20 when Mrs Patel wrote: "Sidique phoned! Coming back soon!" The entry for February 8 read: "Sidique back!"
Prosecutor Neil Flewitt QC had told the jury in his opening that it was clear from the video that Khan did not expect to see his daughter again.
The jury was told that there was further footage, not played to the court, in which Khan and his wife were present in which she says: "There are two minutes left so say your piece."
Khan replies: "Maryam, my little sweetheart, I love you lots and lots. You are my little baby with big fat little feet.
"Remember me in your Duas, I will certainly remember you, and, inshallah, things will work out for the best. Look after your mother, she needs looking after.
"Maryam be strong, learn to fight - fighting is good. Be mummy's best friend. Take care of mummy - you can both do things together like fighting and stuff."
Ali, 24, from Tower Hamlets, east London is standing trial with two other men Mohammed Shakil, 31, and Sadeer Saleem, 27, both from Beeston, Leeds, accused of conspiring with Khan, Tanweer, Hussain and Jermaine Lindsay and others unknown to cause explosions between November 17 2004 and July 8 2005.
All three are alleged to have carried out a two-day reconnaissance mission in the capital on December 16 and 17 2004 with bombers Hussain and Lindsay where they visited the Natural History Museum, the London Eye and the London Aquarium. The defendants deny the charge.
The defendants deny the charge. The trial was adjourned until Monday .
posted by / http://www.dailymail.co.uk