21 April 2008
ST GEORGE'S PARADE SCRAPPED… IN CASE IT UPSETS MUSLIMS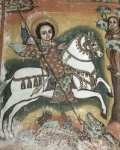 A MARCH to celebrate St George's Day has been axed – because the authorities fear it could spark race riots
About 1,500 children were due to take part in a parade to commemorate the patron saint of England on Wednesday.

But council bosses in Bradford, West Yorks, have ditched the event over concerns it could upset the Asian community, many of them Muslim.

They feared a repeat of riots that hit the city in 2001, when an Asian man was stabbed by National Front supporters and 300 police were injured. Officials suggested making the route shorter to avoid areas where the riots took place.

But the Rev Tony Tooby, chairman of governors at St Philips Primary School, said: "We wanted the route to include where the riots took place to educate our young people.

"But the police and council proposed another route which was ridiculously short.

"The march would have been over before it began.

"Unfortunately, there's a fear someone may have used it to cause violence.

"The day seems to have been taken off us because of fear of thugs." Tory MP Philip Davies, 36, added: "This was a prime opportunity to promote integration in a celebration of being British.

"The police and council – whether it's through political correctness or whatever – have failed miserably. Frankly, it's pathetic."

About 10,000 people were expected to line the streets.

But council leader Kris Hopkins, 44, said: "The council has not banned the St George's Day parade.

"Given the involvement of 1,500 children, including six and seven-year-olds, we suggested a slightly safer route.

"We have got a responsibility to look after our children."

Ladbrokes have cut the odds of St George's Day being made a Bank Holiday after a flurry of bets by patriotic punters.
posted by / http://www.dailystar.co.uk