13 April 2008
Muslim group transforms chapel in Brussels as Cardinal Danneels departs for Rome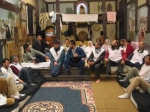 In the centre of Brussels, there is the beautiful Church of the Minimes . It contains a Chapel in the form of the Holy House of Loretto which was built at the same time as the Church. A house of low repute was demolished to make way for the Church and there used to be an
inscription in the Church, "Where once stood a temple of Venus, now stands a shrine to Our Blessed Lady." But now can it be said?
"Where once stood a shrine to Our Blessed Lady, now stands a mosque". The Chapel is now being desecrated by an occupation by a group of Kurds. They claim to be on hunger strike. Why choose a Catholic Church when there are so many other places in Belgium to protest? But is the Chapel now being used as a mosque?; the Vicariat of Brussels have neither confirmed nor denied this, despite several e-mails. The altar has been moved. The statue of Our Lady has been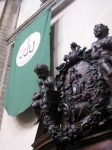 covered by a cloth in such a way that she is mostly hidden from the eyes of the occupants.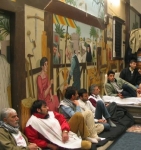 The Loretto Chapel is in the form of the house of the Annunciation and the childhood home of Jesus. The walls are painted in such a way as to give the illusion of life outside in Nazareth.

The other side of the Chapel showing the original artwork representing St Joseph's carpenters shop and Nazareth beyond
Other supporters of the group use the Church as a meeting place.
There is a track record of occupations of Belgian Churches by Muslim groups. The Beguinage Church, one witness alleged was "trashed". This is more than supported by its present state. The Church of the Holy Cross has been occupied. The Church of the Minimes was also occupied two years ago. Children were seen sitting in the priests' chairs in the sanctuary.

The Church authorities no longer defend the inheritance of the Churches. In the Church of Our Lady of Perpetual Help, a banner hangs bearing the name of Allah.
"Neither is there salvation in any other. For there is no other name under heaven given to men, whereby we must be saved." St Peter on the Holy Name Acts 4:12
posted by / http://cathcon.blogspot.com/2005/04/muslim-group-transfor...