20 February 2008
Saudi school 'copied race hate text books before shredding them'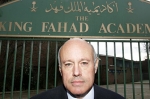 A London school attended by the children of notorious hate preachers was forced to shred 2,000 textbooks used to poison pupils' minds after a public outcry, an employment tribunal has heard
Colin Cook, who formerly taught English at the King Fahad Academy in Acton, told a tribunal how pupils as young as five were taught from Arabic textbooks describing Jews as " monkeys" and Christians as "pigs".
Under public pressure the academy agreed to destroy the books - but not before photocopying them for future use, he told the Watford tribunal.
He also claimed that headteacher Dr Sumaya Alyusuf had given a false assurance that the school did not use objectionable parts of the book.
Dr Alyusuf said on BBC's Newsnight: "There are chapters from these books that are used and that will serve our objectives. But we don't teach hatred towards Judaism or Christianity - on the contrary."
But Mr Cook told the tribunal: "I discovered that race hate was being taught in textbooks at the academy. The race hate included test questions asking pupils to list the reprehensible qualities of Jews and described Christians as 'pigs'. It was appalling."
Father-of-three Mr Cook, 58, of Feltham, is claiming unfair dismissal, race discrimination and victimisation, which the school denies. His allegations were revealed last year in the Evening Standard. He was earning £35,000-a-year and is seeking £135,000 for lost earnings, injury to feelings and aggravated damages.
The tribunal heard that pupils at the private Muslim faith school included the five children of jailed, hook-handed cleric Abu Hamza and those of Abu Qatada, alleged to be Osama bin Laden's right-hand man in Europe.
Mr Cook said that when he queried how the preachers could pay school fees when they were on state benefits, he was told to mind his own business.
The tribunal heard that some pupils "talked as if they did not live in London at all", while some made " inappropriate" remarks about killing Americans, praised al Qaeda leader bin Laden and the September 11 attacks. He also revealed how a school party was thrown out of Arsenal Football Club's museum when Saudi children fought with other pupils.
The school, which opened in 1985 for the children of Saudi diplomats and is funded and controlled by the Saudi government, has denied ever teaching racial hatred. It insists that the offendingpassages in the books were "misinterpreted".
Giving evidence to the tribunal, Mr Cook claimed the school was seen as an extension of the Saudi embassy rather than part of the UK, with Saudi teachers enjoying diplomatic immunity.
He said that an Ofsted inspection in March 2006 failed to identify major issues at the school including parental complaints, unqualified or poor teachers and pupil indiscipline and truancy.
Mr Cook claims that he was sacked on trumped up grounds in December 2006 after he blew the whistle on the school for covering up cheating by children in a GCSE exam. Mr Cook said that when he questioned the coverup, a senior colleague told him: "This is not England. It is Saudi Arabia."
The school claims he was sacked for misconduct.
After the Standard's revelations last February, Dr Alyusuf went on Newsnight to defend the school.
Mr Cook told the tribunal: "The Academy denied that race hate was being taught. However, eventually under public pressure but still denying any wrong-doing, the Academy agreed to shred 2,000 books. I now know that these textbooks had been taught for years to the knowledge of the current dean Dr Alyusuf and her predecessor." The hearing continues
POSTED BY / http://www.thisislondon.co.uk