20 February 2008
Jordan arrests eight Evangelists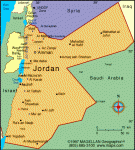 Eight people have been arrested in Jordan for propagating the Christian faith, according to a Saudi newspaper
Jordanian security forces arrested eight people, mostly foreigners, after they were caught distributing missionary material to Bedouin families north and east of the Jordanian capital, Amman, the Saudi daily Al-Watan reported.
The authorities received information about the missionaries from local residents who said these foreigners were offering humanitarian assistance to poor Muslim families and distributing fliers promoting Christianity.
Sources said they were "enticing" impoverished youngsters by paying them money and calling on them to marry foreign girls.
Islam is the state religion in Jordan, though christianity is a recognized religion in the country.
Evangelism is a practice frowned upon in the Muslim world, and often associated with Western imperialism.
The Jordanian government prohibits conversion from Islam and the proselytizing of Muslims. The Shari'a courts have the authority to prosecute people trying to convert Muslims, according to the United States State Department's annual report on religious freedom.
Muslims in Jordan who convert to another religion face social and governmental discrimination, the report said.