29 January 2008
Saudi beheads Nigerian woman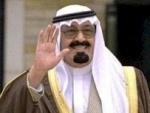 RIYADH - A Nigerian woman and a Pakistani man were executed in the Muslim holy city of Mecca today for drug trafficking, the Saudi interior ministry said
Ghulam Nawaz was beheaded by the sword after being found guilty of drug smuggling in the ultra-conservative kingdom, the ministry said in a statement carried by the official SPA news agency. In a separate statement, the ministry said Tawa Ibrahim, the Nigerian, was beheaded for cocaine trafficking.
Their executions bring to 18 the number announced by Saudi authorities since the start of the year, after a record 153 people were put to death in 2007.
Rape, murder, apostasy, armed robbery and drug trafficking can all carry the death penalty in the oil-rich Gulf Arab country, where executions are usually carried out in public.
posted by /http://www.thetimes.co.