25 December 2007
Hate cleric Omar Bakri calls for 'ban' on Christmas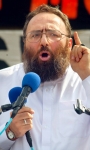 Hate preacher Omar Bakri, who is barred from Britain, is calling on Brits to boycott Christmas.
Using the internet to post a rant against the festive season, Bakri claims Christmas should be "completely forbidden".
In another chilling post the radical cleric said Christmas Day would be the perfect day to launch a terror attack on the UK.
He said: "To have Christmas tree, visit so-called Christmas Father - that is completely forbidden.
"Make sure you do not watch TV. Do not let them hear jingle bells. Do not send your children on Christmas trip."
Bakri's previous vile rants included his belief that the British public and the Government were responsible for the 7/7 London bombings.
In 2005 he was excluded by the then Home Secretary Charles Clarke from returning to Britain.
The move came after Bakri reportedly said he had left Britain for good and intended to set up home in the Lebanon.
He was duly arrested by Lebanese security forces.
Bakri, 46, was the London-based spiritual leader of the extremist group Al-Muhajiroun while claiming benefits from social services.
Although the group had supposedly disbanded, Prime Minister Tony Blair said that its successor organisation would be outlawed.
The Syrian-born preacher moved to the UK in 1985 after being deported from Saudi Arabia because of his membership of a banned group there.
In 1996 he created Al-Muhajiroun (The Eyes and Ears of the Muslims), which praised the 'Magnificent 19' hijackers after September 11.
In October 2004, he announced he was disbanding Al-Muhajiroun in the interests of "unity in the Muslim world".
But soon afterwards he led a demonstration outside the US Embassy in London in which protesters chanted the name of Al Qaeda chief Osama bin Laden and torched an American flag.
Bakri has seven children who were born in the UK and relied on benefits for the past 19 years.
He has been told he will almost certainyl never be able to re-enter the UK, despite his wife and six of his children still living in north London.
POSTED BY / http://www.thisislondon.co.uk