22 December 2007
Australia: 800 protest against Islamic school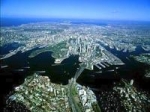 Sydney, 20 Dec. (AKI) - Police broke up a crowd of 800 protesters in the outskirts of Sydney on Wednesday night as they sought to oppose plans for an Islamic school
Media reports said officers blocked many of the protesters from a public meeting to discuss the school proposal, held at the Camden Civic Centre and riot police were on standby to prevent any violence.
Police were anxious to prevent any repetition of the race riots that occurred on Sydney's Cronulla Beach two years ago and led to the expansion of police powers.
Men reportedly carried banners saying "Aussie Pride" and shouted at security guards.
Tension is mounting in the semi-rural community over the proposal by the Quranic Society for a 16 million dollar school on Sydney's western fringe.
The local council has received around 2,500 resident submissions on the proposal - 1829 against, 649 in support.
A final decision on the development application for the 1200-student Al Amanah Islamic College is expected to be made in March next year.
The council says staff have made no recommendations about the development which includes a primary and secondary school, a 30-place child-care centre with two residences for caretakers, a reception and convention hall, a sports hall and an indoor pool.
A police spokeswoman said that the organisers of the meeting had sent out 1600 flyers even though the centre could hold only 650 people.
"Organisers had met with police and council officials and it was agreed that once seating capacity was reached, the venue would be closed to those seeking entry,'' the police spokeswoman said.
"The forum passed without incident, no one was arrested."
Meanwhile, the latest academic results show that one of Sydney's prominent Islamic schools, the Malek Fahd Islamic school, is among the city's top ten schools.