19 December 2007
Pakistan Couple And Children Threatened With Death For Embracing Christ (BosNewsLife Exclusive)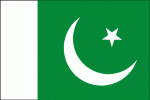 By Jawad Mazhar, BosNewsLife Special Correspondent reporting from Pakistan SARGODHA, PAKISTAN (BosNewsLife)-- A Pakistani Christian couple said Tuesday, December 18, they have gone into hiding in Pakistan's northeastern city of
Sargodha because Muslim relatives threaten to kill them and their children for embracing Christianity
ten to kill them and their children for embracing Christianity.
Salhey Luca, a former Muslim, and his wife Tasneem John told BosNewsLife they have been "receiving death threats by Luca's Muslim siblings" in this predominantly Muslim country "after accepting Jesus Christ as Lord and Savior."

The couple said they also fear for the lives of their four daughters Sabahat Iqra, 14, Sanobar Maria, 11, Sarcilla Iffat, 10, and Sabeqa Ulffat, 7, and their only son, five-year-old Zephaniah Anjum.
Speaking by telephone from an undisclosed location, Tasneem John, who was raised in a Christian family, said the troubles began when her husband embraced Christianity five years into their marriage "in March 1997," after abandoning Islam. John said her his conversion was a dangerous step as her husband belonged to "a very conservative Islamic religious family."
DANGEROUS CONVERSION
Luca said soon after his conversion to Christianity family members, including his two sisters and only brother, now deceased, "turned against" him and his family. "My sisters even tried to force me to divorce my Christian wife and recant Christianity, otherwise they threaten to kill us" he added, his voice trembling. They are also trying to illegally occupy the couple's inherited part of cultivated land, Luca said.
This year the situation worsened when Muslim in-laws allegedly stepped up the pressure and twice tried to kidnap the couple's daughters from the girls' hostel in the city of Rawalpindi near the capital Islamabad where they live and study.
John said that on September 11 this year Muslim in-laws and a Muslim security guard of the girls hostel "kidnapped" her eldest daughter Sabahat Iqra from the hostel. "Luckily Sabahat Iqra managed to escape from the vehicle of the kidnappers, as they stopped at a traffic signal and reached home," she said. Soon after in-laws allegedly tried to kidnap her second daughter as well, but this time they failed by "the grace of Lord Jesus Christ," she claimed.

REFUGE SEARCH
The couple said that now they have left their undisclosed home town and shifted to Sargodha "in search of refuge" and are now looking for work. Advocacy group Rays Of Development with website www.raysofdevelopment.org is involved in a campaign to support of the Christian family.
"We hope eventually to find asylum outside Pakistan or perhaps a very safe place in the country," the couple said.

The apparent pressure on the Christian couple has underscored concerns within the Christian community about rising Muslim extremism in Pakistan. Christians comprise less than three percent of Pakistan's roughly 165 million people, according to the United States Central Intelligence Agency (CIA).