04 December 2007
Sheikh's letter to dead Digger's dad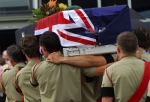 A MAN purporting to be a Muslim cleric wrote to the father of slain Australian soldier Luke Worsley telling him he "can't be proud" of his son who "died for nothing" - then posted the
letter online.
John Worsley, father of 26-year-old commando Private Luke Worsley who was killed by the Taliban in Afghanistan last month, received the letter from "Sheikh Haron" just days after news broke of his son's death.

"We were hurt (by the letter)," Mr Worsley told NEWS.com.au.
"We're very proud of our boy."
The letter – topped with Mr Worsley's home address – has been posted on the internet by the mystery "Sheikh".

"Dear Mr Worsley," the letter reads. "It is painful but we should be proud when we loose (sic) our dear kids for defending our country while we are unjustly attacked by another country.

"But it is more painful and we can't be proud when we loose (sic) our kids for nothing!

"We loose (sic) our dear kids for nothing if we unjustly attack to (sic) another country and our kids are killed while the other country is defending itself."

NEWS.com.au emailed the author through the website where the letter was published but did not receive a response.
Pte Worsley was farewelled at a funeral in Sydney yesterday.
The letter said "it would be nice" if Mr Worsley asked the Department of Defence to organise a ceremony "for the respect of innocent civilians, whether they have been killed by Australians or not."

"It was nice of Chief of (the) Defence Force Air Chief Angus Houston that (sic) has extended his sympathies to your family… but I don't know why he has not had any comment for the family of three innocents who were killed in that operation."

Pte Worsley was killed during a fire-fight against the Taliban on November 23. He was part of an operation against insurgent bomb-makers in the dangerous Oruzgan Province.

At his funeral in yesterday, Pte Worsley was described as a "hero" who saved many lives and was an inspiration to his comrades.

"Luke was the first man of the team through the door and was met by enemy forces who opened fire at close range, resulting in Luke being killed almost instantly," Lieutenant Colonel Mark Smethurst said.

"Luke's actions upon entering the room, warning of the enemy threat, almost certainly saved the lives of other members of his team."

Pte Worsley was the third member of the Australian Defence Forces killed in Afghanistan over the past two months, following the deaths of SAS Trooper David Pearce and Sergeant Matthew Locke in October.

In 2003, SAS trooper Sergeant Andrew Russell died when his vehicle hit a landmine.
POSTED BY /http://www.news.com.au