11 November 2007
Italy: Church opens doors for Muslim Friday prayers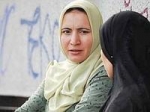 (AKI) - A priest in Paderno di Ponzano near Treviso in the northern Italian region of Veneto, Aldo Danieli, has decided to allow Muslims to
meet and pray in church premises in his parish on Fridays to foster better integration of immigrants in the local community, La Repubblica newspaper's website reports.
Volunteers at the church of Santa Maria Assunta have said that their meetings with Muslims from the immigrant community enable them to "experience different cultures and break down barriers caused by misunderstanding and intolerance," La Repubblica said, quoting Italian charity Auser.
The meetings between volunteers from Danieli's parish and local Muslims - many of whom are women - have been organised through Treviso's Islamic Centre.
Some 650 immigrants, many of whom are from North Africa, live in Paderno di Ponzano , a small town of 9,800 people