21 October 2007
Serial rapist gets nine years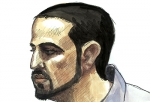 A MAN has been jailed for at least nine years for raping four women and attacking two others.
Sedat Avci, 21, of Broadmeadows, terrorised women in the northern suburbs between April and August 2005.
Most victims were walking alone in the evening and were subjected to terrifying sex attacks.
Avci had pleaded guilty to seven counts of rape.
County Court Judge Jeanette Morrish said yesterday Avci had waged a "cowardly, aggressive and violent campaign" on vulnerable women but believed his prospects of rehabilitation were good because of his youth and his return to the Muslim faith.
She sentenced Avci to 16 years in jail, with a minimum of nine. The maximum term for rape is 25 years.
Crime Victims Support Association president Noel McNamara slammed the jail term and said he planned to write to the acting Director of Public Prosecutions, Jeremy Rapke.
"That's 1.5 years each for six women who have got life sentences -- it's a terrible disgrace," Mr McNamara said. "It's a great insult to the victims and the community."
Mr Rapke will review the case.
Avci was just 19 when he violently assaulted women in Coburg, Coolaroo, Brunswick and Hawthorn.
One victim was about to drive off when Avci asked to use her mobile phone. He then forced his way into her car and repeatedly raped her.
In a victim impact statement read in court, the woman said her life had been turned upside down.
"I will have to work every day of my life to make sure this doesn't define who I am," she said.
A victim who was raped twice while walking her dogs said the memory of the attack haunted her.
Avci also pleaded guilty to a count of aggravated burglary and another charge of robbery after attacking a pregnant woman in front of her children, aged three and four.
The serial rapist was arrested in August 2005 after police matched his fingerprints to those on a newspaper at the scene of an attack.
A psychiatric report revealed Avci did not have a mental impairment at the time of the attacks, but was using amphetamines.
Avci threatened most of his victims with a knife and in one case told a woman who tried to escape he would shoot her if she tried again.
In a letter of apology to his victims, Avci said he had "no good excuse" for what he had done.
"To say sorry is not enough to heal the heartache and pain I have caused to your lives and your families' lives," he said.
POSTED BY /http://www.news.com.au