06 October 2007
Two killed in south Thailand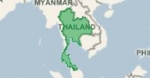 TWO civilians were shot dead and two people injured in attacks by suspected Islamic separatists in Thailand's Muslim-majority south, police said today.
A 90-year-old Buddhist man was killed early today in a rice field in Pattani, one of the insurgency-plagued provinces bordering Malaysia, police said.
In neighbouring Yala province, a 47-year-old Muslim deputy village chief was killed late yesterday while having dinner at home.
Police also said a bomb blast near a railway station in Yala province today seriously injured a Buddhist couple.
More than 2600 people have been killed since separatist fighting broke out in January 2004 in the region along Thailand's southern border with Malaysia.
POSTED BY / http://www.news.com.