24 September 2007
9 children injured in teashop explosion in Thai south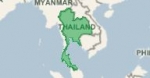 Nine children were severely injured when suspected insurgents detonated a bomb at a teashop in Thailand's deep southern province Yala Saturday night, media here reported Sunday
The bomb exploded at the teashop located in Yala's Muang district (provincial seat) at 8:25 p.m. (1325GMT) Saturday, according to news network The Nation.

The children, aged between six to fourteen years, were rushed to the Yala provincial hospital.

Thailand's three southernmost provinces -- Yala, Narathiwat and Pattani, has been stricken with a new wave of insurgent violence since January 2004, which has killed over 2,400 people in the region.

Thai authorities has blamed Malay-ethnic Muslim militants in the region for the bombings, drive-by shootings and arsons being staged on an almost daily basis.
POSTED BY/http://english.people.com