04 September 2007
UK: Muslim Men Gang Rape 12-year-old Girl....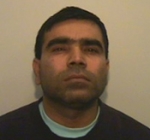 I can almost see why they did this, in Pakistan, along with most Muslim countries, women are degraded from birth. Too bad for him this is the west, and we don't cheapen people because of their sex....
A 39-year-old man has been sentenced for brutally raping a 12-year-old girl and subjecting her to a terrifying ordeal in Oldham in October 2006.

Shakil Chowdhury (1/1/67) of Attock Close, Chadderton previously pleaded guilty to six counts of rape and was sentenced at Minshull Street Crown Court on Friday 31 August 2007 to 6 years for each, to be served concurrently.
On the evening of Thursday 27 October 2007 the 12-year-old girl was walking along Manchester Road in Werneth trying to get directions to go home when Chowdhury approached her.

He encouraged the girl to get into his car. When she got in she told him her name, address and age. Chowdhury then asked her if she would like to go to his home address with him and the girl agreed, feeling that she could trust him.

When they got to Chowdhury's house he gave her alcohol before taking her upstairs and telling her to lie on the bed. Feeling extremely frightened, the girl agreed to do this. Chowdhury then raped her.

He then left the room and a second man came into the room and raped the girl. Throughout the evening Chowdhury raped the victim a total of 11 times, using different beds within the house and forcing her to clean herself between attacks.

He also invited two other men to rape her, bringing the total number of men who had abused her that evening to four.
POSTED BY /http://www.weaselzippers.net