12 July 2007
Iran: 21 women arrested in Ghazvin over Islamic dress codes police say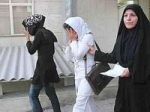 Twenty one women have been arrested in the Iranian city of Ghazvin, 100 km north of Tehran, since 21 May and 3,264 reported to the authorities for failing to respect strict Islamic dress codes, police officials said Thursday.
Local police also said that about 100 shops including internet cafes, restaurants, hairdressers' and clothing boutiques were fined and shut down for numbering among their clients women who were not dressed according to the strict new rules which became effective on 27 April.

Police in Tehran say that only in the first week since the rules were implemented, officials stopped 2,198 women and 91 men whose attire was deemed unfit. Of these, 213 women and 12 men were taken to police stations and formally charged.

They will have to face trial and their names were inserted in a new data bank listing 'immoral persons'.

According to the rules, a woman who does not completely cover her hair and body in public can be fined or imprisoned. Men also must wear their hair short and T-shirts and all Western-style clothes are banned.
POSTED BY /http://www.adnkronos.com