02 July 2007
Whipping, prison and fines for anyone who tries to convert Muslims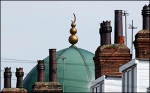 In Kelantan, the only Malaysian state run by an Islamic party, penalties for anyone who proselytises among Muslims have been increased. The new law is the strictest in the entire federation. After the Lina Joy affair, the more radical circles fear "mass conversions."
Kuala Lumpur (AsiaNews/Agencies) – The only state in Malaysia run by an Islamist party, the opposition Pan-Malaysia Islamic Party (PAS), has approved stiffer penalties to deter people from trying to convert Muslims to other faiths. Under the revised law passed by the northern Malaysian state of Kelantan, anyone found guilty faces a maximum penalty of six lashes with a rattan cane, five years in prison and a fine of almost us$ 3,000. The previous maximum penalty was two years in prison and a fine of RM 5,000 (US$ 1,400).
Hassan Mohamood, who heads Kelantan's Islamic affairs committee, told The Associated Press on Wednesday that the stiffer laws are useful "as a form of deterrence".
Proselytising of Muslims is forbidden under federal laws, but the recent case of Line Joy, a Malay-Muslim woman who sought legal recognition of her right to pick her religion of choice, raised fears among some in Malaysia over mass conversion.
Kelantan authorities are not new to taking extremist steps. Last year the PAS government passed a law giving Muslims a cash bonus worth US$ 2,700, plus a US$ 270 monthly subsidy, free housing and a car if they married and converted indigenous animist people.